Resources Stephen Leaders Use
Here is an overview of the resources Stephen Leaders use as they train Stephen Ministers and lead Stephen Ministry in the congregation.
During their training, Stephen Leaders learn how to effectively use all these resources, which have been newly revised and updated as of 2020.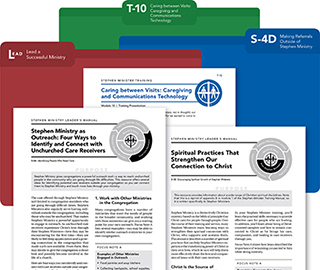 Stephen Ministry Leader's Manual
The Leader's Manual provides Stephen Leaders with the knowledge they need to train Stephen Ministers and oversee Stephen Ministry in the congregation. These user-friendly materials put invaluable information at your fingertips.
---
Stephen Minister's Essential Training Library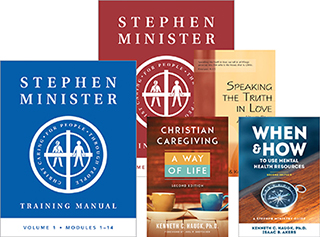 The Stephen Minister's Essential Training Library contains the resources Stephen Ministers read and use during their initial training and continuing education. Stephen Leaders also use these resources as they lead Stephen Ministers through that training.
The two-volume Stephen Minister Training Manual

Christian Caregiving—a Way of Life

Speaking the Truth in Love: How to Be an Assertive Christian

When and How to Use Mental Health Resources: A Stephen Ministry Guide
---
Stephen Ministry Training Video Collection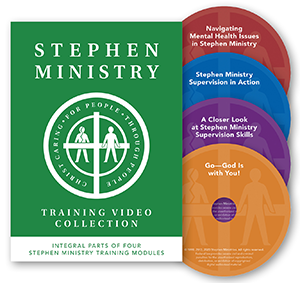 The Stephen Ministry Training Video Collection includes four videos that are an integral part of Stephen Minister training:
Navigating Mental Health Issues in Stephen Ministry

Stephen Ministry Supervision in Action

A Closer Look at Stephen Ministry Supervision Skills

Go—God Is with You!
---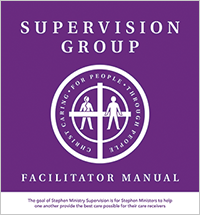 Supervision Group Facilitator Manual
The Supervision Group Facilitator Manual is used by those who facilitate twice-monthly Small Group Peer Supervision—a key to ensuring Stephen Ministers provide the best care possible. This manual provides facilitators with a thorough understanding of supervision and equips them with essential small group facilitation skills.
---
Stephen Leader Online Toolkit
Along with the physical Leader's Manual, Stephen Leaders have access to this online component of the manual. These regularly updated webpages include ideas for each activity in the Stephen Ministry system, publicity materials, system forms, and more to help you carry out your ministry.
The video below provides an introduction to the Stephen Leader Online Toolkit, highlighting just a few of the many tools and resources it contains.