Stephen Ministry Leader's Manual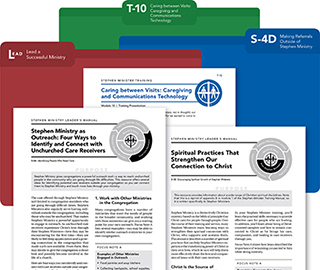 The Stephen Ministry Leader's Manual is the primary resource used by Stephen Leaders to direct their Stephen Ministry. A collection of easily accessible resources, the Leader's Manual contains:
step-by-step guidance and ideas for every facet of Stephen Ministry;

detailed lesson plans and presentations to train Stephen Ministers;

forms for key aspects of carrying out your ministry; and

a complete system for beginning and managing Stephen Ministry in your congregation.
The user-friendly color-coordinated format puts all the information you need right at your fingertips, making your ministry as straightforward, efficient, and enjoyable as possible.
Additional Materials Included
Each Leader's Manual also includes: