Supervision Group Facilitator Manual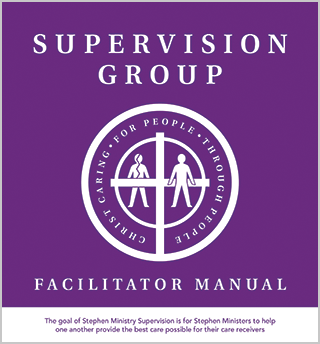 Supervision Group Facilitators are specially trained Stephen Ministers and Stephen Leaders who oversee small groups of 5-7 Stephen Ministers during twice-monthly supervision sessions.
The Supervision Group Facilitator Manual is the textbook these individuals use during their training to become facilitators. It gives them a thorough understanding of Stephen Ministry Small Group Peer Supervision and equips them with skills for managing their Supervision Groups, facilitating discussion, and helping group members provide one another with support, guidance, and accountability. After training, they'll be well prepared to lead their Supervision Groups effectively and confidently.
Once Supervision Group Facilitators begin leading their Supervision Groups, the Supervision Group Facilitator Manual also serves as an ongoing resource for effectively carrying out their role. It provides the administrative and organizational tools they regularly use to ensure that supervision fulfills its goal of helping Stephen Ministers provide the best care possible for their care receivers.
Supervision Group Facilitator Manual

Contents
Supervision Group Facilitator Training Resources

Facilitation Tools

Planning Tools

Supervision Tools

Focus Question Sets

Evaluation and Reporting Tools

Notes, Schedules, and Forms