What Is a Stephen Minister?
Stephen Ministers are lay congregation members trained to provide one-to-one care to those experiencing a difficult time in life, such as grief, divorce, job loss, chronic or terminal illness, or relocation.
Stephen Ministers come from all walks of life, but they all share a passion for bringing Christ's love and care to people during a time of need.
Since 1975, more than 600,000 people from more than 13,000 congregations and other organizations have been trained as Stephen Ministers.
Stephen Ministers Share Their Stories
Training to Become a Stephen Minister
Stephen Minister training is a Christ-centered experience that equips participants with essential caring and relating skills. Trainees learn how to listen to, care for, and walk with those going through difficult times in life.
Stephen Ministers are trained by their congregation's Stephen Leaders using resources from Stephen Ministries St. Louis. The training they receive in the congregation equips them to provide high-quality care to people who are hurting.
What Stephen Ministers Do
After being matched with a person experiencing a life crisis, the Stephen Minister meets with that person on a weekly basis to listen, care, encourage, and provide emotional and spiritual support. The caring relationship lasts as long as the need for care exists.
The following quotes, stories, and articles (in PDF format) illustrate what Stephen Ministers do.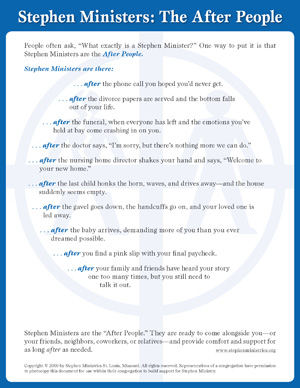 A Life-Changing Experience for the Care Receiver
Stephen Ministers have cared for over one-and-a-half million people in one-to-one caring relationships—and they have touched countless more lives with compassionate understanding and encouragement.
How Is God Calling You?
If you sense that God might be calling you to serve as a Stephen Minister, the first step is to find out more about getting involved.