Stephen Minister Training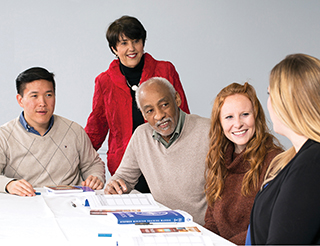 Stephen Minister training is an engaging, energizing experience that features a mixture of presentation, video, group discussion, skill practice, and spiritual growth activities. Since 1975, more than 600,000 Stephen Ministers have been equipped by this training to provide care to millions of people.
Stephen Minister training . . .
teaches principles and skills that equip you to provide high-quality, Christ-centered emotional and spiritual care to others.

gives you new insight into the thoughts, feelings, and actions of people who are hurting.

equips you with relational and caring skills you can apply to all aspects of your life.

helps deepen your faith as the Holy Spirit fashions you into a Christ-centered caregiver.

builds a special bond of Christian community and camaraderie among all those in your class.

is highly interactive, engaging, and a lot of fun!
---
Stephen Ministers Share about Their Training
"God gave me a heart for other people. Stephen Minister training gave me the skills I needed to minister to people and bring God's love into their lives during a time of deep need."

Charlotte | Manager-Care/Case Management | Pittsburgh, Pennsylvania
"Stephen Minister training taught me not just how to be a caregiver, but how to live life in a new way—being Christ to other people."

Mike | Carpenter | Kennesaw, Georgia
"Stephen Minister training has helped me grow—personally, spiritually, and professionally. I use my Stephen Minister skills all the time with patients, peers, and physicians."

Anna | Registered Nurse | Hendersonville, Tennessee
"Stephen Minister training has enhanced every relationship I have. Now I can listen and be there without feeling like I need to rush in and try to fix things. (My 15-year-old finds this a great blessing!) I'm much more at peace in difficult situations because I realize that it's not me—but Christ within me—who does the work."

Susan | Licensed Massage Therapist | Saint Petersburg, Florida
"Stephen Minister training has given me skills I use all the time with my patients, particularly when they experience a crisis, large or small. It enables me to provide a level of emotional care that enhances our clinical care."

Barbara | Dental Hygienist | Saginaw, Michigan
"Stephen Minister training has helped me relate better to family, friends, neighbors—everyone I meet!"

Maria | Mother | Ridgefield, Connecticut
"One of the biggest things I learned is that it's not about me, it's about God. I am the caregiver, and God is the cure-giver. My job is to listen—to really listen and care—and rely on God to bring about healing."

Paul | College Student | Clinton, South Carolina
---
How and Where the Training Happens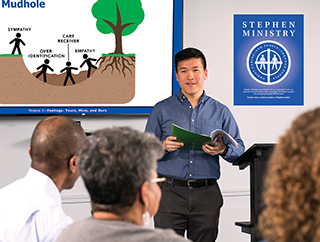 Stephen Minister training:
takes place in your congregation

is led by your congregation's Stephen Leaders

is typically taught in 20 weekly sessions, possibly including one or more retreats

combines Pre-Class Reading, devotions, presentation, discussion, skill practice, and video
---
What the Training Covers
Initial training takes place before Stephen Ministers are commissioned and assigned their first care receivers. Continuing education takes place after commissioning and throughout a Stephen Minister's service.
Initial Training
Stephen Ministers' initial training covers essential caregiving topics that give trainees a solid foundation for offering distinctively Christian care to people going through a variety of life challenges.
The Person of the Caregiver
Feelings: Yours, Mine, and Ours
The Art of Listening
Distinctively Christian Caring
A Process Approach to Caring
Assertiveness: Relating Gently and Firmly
Maintaining Boundaries in Caregiving
Crisis Theory and Practice
Confidentiality
Caring between Visits: Caregiving and Communications Technology

Using Mental Health Professionals and Other Community Resources
Ministering to Those Experiencing Grief
Caring for Those with Depression: The Stephen Minister's Role
Understanding Suicide: How to Help People Get the Care They Need
Bringing the Caring Relationship to a Close
Supervision: A Key to Quality Christian Care
How to Make a First Caring Visit
Go—God Is with You!
Continuing Education
Stephen Ministry continuing education helps Stephen Ministers to continue to hone and develop additional caregiving skills. Seven modules of continuing education (listed below) are provided by Stephen Ministries as a starting point. In addition, Stephen Leaders identify continuing education topics to meet the needs of their congregation's Stephen Ministers.
Ministering to Those Who Are Dying and Their Family and Friends
Caring for People Experiencing a Major Medical Crisis
Ministering to People Experiencing Challenges Related to Aging
Ministering to People Needing Long-Term Care
Ministering to Those Experiencing Divorce
Crises Related to Starting or Adding to a Family
Advanced Christian Caring
---
Learn More: