Resources Stephen Ministers Use in Training
Stephen Ministers use the Stephen Ministry Training Manual and three other books as part of their 50 hours of training.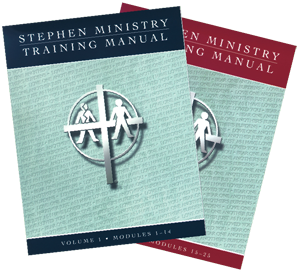 Stephen Ministry Training Manual
The Stephen Ministry Training Manual is the primary resource Stephen Ministers use during their initial training and during continuing education. It contains Preclass Readings along with Outlines and Focus Notes for each session.
The two-volume manual combines the latest principles and practices for effective caregiving with timeless biblical truths that guide how we minister with Christ's love. Filled with knowledge, wisdom, and skills, it's a resource that Stephen Ministers will keep coming back to for years to come.
Download sample Preclass Reading and Outline and Focus Notes excerpts from the Stephen Ministry Training Manual.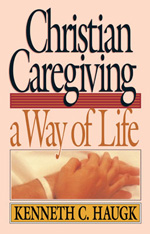 Christian Caregiving—a Way of Life
By Kenneth C. Haugk
Dr. Kenneth Haugk, pastor, clinical psychologist, and founder of Stephen Ministries, blends the best of the social sciences with a distinctively Christian approach to caring and relating to others. This book (part of the Preclass Reading for module 4) lays the foundation for the Christ-centered care that Stephen Ministers provide.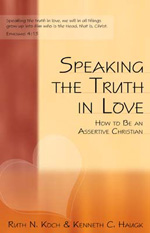 Speaking the Truth in Love: How to Be an Assertive Christian
By Ruth N. Koch and Kenneth C. Haugk
This book (Preclass Reading for module 6) presents Christian assertiveness in light of what Jesus said and did. It teaches Stephen Ministers biblically based, practical skills for relating to others in honest, direct, open, and natural ways—all keys to providing quality Christian care.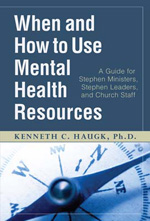 When and How to Use Mental Health Resources: A Guide for Stephen Ministers, Stephen Leaders, and Church Staff
By Kenneth C. Haugk
Stephen Ministers are lay caregivers, so it is essential for them to know the various types of care that they are qualified—and not qualified—to provide. This book (part of the Preclass Reading for module 11) defines those boundaries and helps Stephen Ministers know how to work with their Stephen Leaders and pastors in making a referral to a professional caregiver, should the need arise.