The Gift of Empathy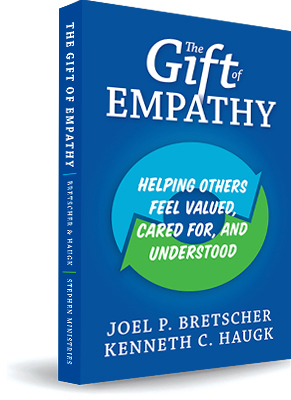 Frequently Asked Questions
What is the goal of this book?
The goal of the book is to make the world a better place by equipping readers to relate with greater empathy in all their interactions in life. We envision a world that is overflowing with empathy, in which everyone's go-to way of relating to anyone else is empathy. And we think the book can help achieve that vision, one person, one interaction at a time.
Who would benefit from reading this book?
This book would benefit anyone who would like to relate in more caring and understanding ways with the people they encounter on a daily basis. That includes family, friends, neighbors, coworkers, and anyone else they interact with.
What motivated you to write this book?
The idea grew out of our ongoing research with people experiencing all kinds of struggles in life, big and small. We heard again and again that when one person told another about a struggle they were having or difficult feelings they were experiencing, the typical response was a fix-it solution, a pep talk, a platitude, a dismissive remark, or something equally unhelpful, when what the person wanted and needed most was empathy. So we conducted even more specific research and discovered that there is a tremendous need not only for more empathy but also for a practical book that would help people relate with greater empathy in their daily lives.
How is this book different from other books on empathy?
It's different in several ways:
The way of defining empathy as having two actions sets it apart. We put a lot of focus into the second action in which you respond to the person experiencing strong feelings, since that's what gives your empathy the power to make a difference in the other person's life.

The book is very practical, with a lot of helpful suggestions for empathizing more effectively. For instance, there's a series of chapters on how to relate with greater empathy in specific types of relationships and situations, such as with a spouse, children, parents, siblings, friends, and coworkers.

The book is filled with real-life stories that illustrate the various tips and suggestions, so readers come away with specific examples of how to offer empathy in a wide range of circumstances and situations. Readers have told us they appreciated the examples and that by inserting themselves into the stories, they had the opportunity to apply the principles in the book and practice their empathy.

The book is built on extensive research, and, like other books from Stephen Ministries, the information is presented in a warm, inviting, and engaging way.
Could we use this book in a class or course?
Definitely—it can be used for teaching with general audiences and all kinds of specific groups. Several of our reviewers were educators, and they said the book would work well in a class setting. A number of physicians and nurses also said it could be used to equip medical professionals to be more empathetic and relate in healthy ways that help avoid burnout. In addition, people from other professions—such as counselors, social workers, business professionals, and military officers—said the book would be useful for training in their fields.
Is the book appropriate for young people?
We wrote the book with adults in mind, but it would certainly be readable and beneficial for high-school and middle-school students. In fact, some of the people who read and gave feedback on the book were youth directors in churches, and they expressed interest in using the book with their youth groups.
Can a book really make someone more empathetic?
Readers have told us it did just that. We've heard story after story from our pre-publication reviewers about ways they were able to apply the principles and skills they were reading about. People who felt they had low empathy said the book was extremely helpful in learning how to empathize. And people who felt they were already highly empathetic said the book helped them grow their skills even more. So no matter what your empathy skill levels might be, this book can help you grow.
What research went into writing this book?
Our research for the book involved 2,010 individuals who completed written surveys, 1,942 focus group participants, and 154 interviewees. The insights, ideas, and experiences they shared, from the perspectives of both giving and receiving empathy, were immensely helpful as we developed the content for the book. We also had 211 people read and give feedback on the book before publication.