The Gift of Empathy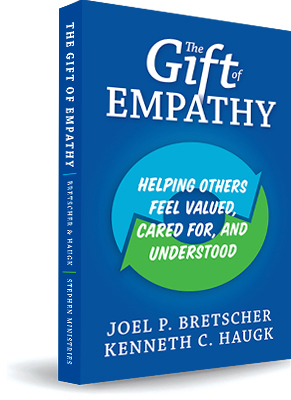 A Vision for a World Filled with Empathy
Empathy is something we all need—and it's something we all can give.
The Gift of Empathy: Helping Others Feel Valued, Cared for, and Understood presents a fresh approach to a familiar concept, providing practical insights and real-life examples that equip readers to relate in empathetic ways that make a difference in the lives of all those they encounter.
Empathy is a skill anyone can learn, and this book lays out principles and practices that empower you to better understand, connect with, and care for family, friends, coworkers, and others you may relate to. As you practice and strengthen your ability to empathize, you will experience more caring interactions and more meaningful connections in all areas of your life.
That's the power of empathy, and helping people discover that power and apply it in their own lives is what The Gift of Empathy is all about.
---
Empathizing in Everyday Life
The Gift of Empathy takes an in-depth yet down-to-earth look at empathy, showing readers how to use it in a wide range of situations and relationships. It defines what empathy is and isn't, offers practical insights on how to empathize, and demonstrates unique applications of empathy in various kinds of relationships.
View the table of contents and read excerpts from the book.
Throughout the 160 pages of the book, you'll find key points illustrated by a rich tapestry of personal stories gathered through extensive research with people from diverse backgrounds, locations, and walks of life. This research included:
2,010 people who completed research surveys

1,942 people who participated in focus groups

154 people who took part in one-to-one interviews

211 people who read and gave feedback on the book before publication
Learn more about the development of the book and other frequently asked questions.
---
A Book Anyone Can Benefit From
The Gift of Empathy is written in a clear, conversational style, making it easy to read and apply the concepts it introduces. Readers have found the book an inspirational tool for personal growth and an encouragement to make empathy a more significant part of their everyday lives and relationships.
"I've already incorporated what I learned from The Gift of Empathy into my daily life, and it's having a huge impact on even brief exchanges I have with others. It's excellent!"

Jamie Venezia | Claims Adjuster | Saint Louis, Missouri
A growing number of professionals are also using the book to support their work and those they serve. These include teachers, counselors, pastors and church staff, medical professionals, emergency responders, business leaders, and more.
Read what others are saying about the book.
---
To Order
The Gift of Empathy
The Gift of Empathy is available exclusively from Stephen Ministries. To order the book:
Visit our online store, or
Call us at (314) 428-2600.
Share Your Empathy Experiences
In writing The Gift of Empathy, we learned from thousands of people about their history with empathy—both giving and receiving it. As we continue our research in this area, we're interested in hearing about your experiences with empathy.