Stephen Ministry in Catholic Churches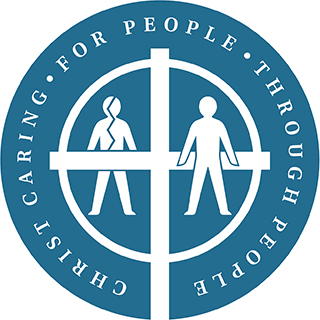 Catholics sometimes ask us, "Can Stephen Ministry work in a Catholic parish?" The answer is a resounding yes! Stephen Ministry is thriving in Catholic parishes all around the United States, which are using it to engage the laity in meaningful ministry and expand the church's capacity to care for people who are hurting.
Fr. Anthony Infanti is a priest from the Diocese of Camden, New Jersey. We sat down with him to hear about his experience with Stephen Ministry.
---
Here at Stephen Ministries St. Louis, we're blessed to have a number of Catholic staff members, who put together the following thoughts about Stephen Ministry and Catholic churches.
The Theology of Stephen Ministry from a Catholic Perspective
Stephen Ministry's scriptural and theological foundations are grounded in essential Christian truths that are compatible with Catholic teaching. Here are a number of key points about Stephen Ministry and how they relate to the theology and traditions of the Catholic Church.
Incarnational theology is at the core of Stephen Ministry. "Christ caring for people through people" is the best way to sum up how Stephen Ministry incorporates incarnational theology. An ongoing theme in Stephen Minister training is that "we are the caregivers, and God is the Curegiver," which recognizes that healing comes from God alone while also affirming the reality that God works through his people to accomplish his work in the world.

Stephen Ministry exists to "equip the saints for the work of ministry" (Ephesians 4:12). Because Stephen Ministry trains laypeople for caring ministry, it reflects Catholic teaching on the laity's participation in the life and work of the church, as well as their baptismal call to share in the common priesthood of all the faithful (CCC, 898–905, 1591). In addition, as an extension of the priest's pastoral care, Stephen Ministry is an avenue through which the laity can "cooperate with their pastors in the service of the ecclesial community, for the sake of its growth and life" (CCC, 910).

Stephen Ministry is an opportunity for people to exercise the unique gifts given to them by God. Paul writes in 1 Corinthians 12: 4–7, "There are different kinds of gifts, but the same Spirit distributes them. There are different kinds of service, but the same Lord. . . . Now to each one the manifestation of the Spirit is given for the common good." Because Stephen Ministry focuses on providing emotional and spiritual care, it can be a great fit for those who have gifts of faith, mercy, and encouragement.

The Catechism notes that the laity can serve the church "through the exercise of different kinds of ministries according to the grace and charisms with the Lord has been pleased to bestow on them" (CCC, 910). For people with gifts in the area of caregiving, Stephen Ministry provides an excellent opportunity to live out their God-given gifts in service to others.

Stephen Ministry serves to bring Christ's healing love to those who are hurting. Jesus instructed his disciples to "love one another as I have loved you" (John 13:34). Stephen Ministry, as a caregiving ministry, equips people to offer that love through their caring presence, listening, encouraging, and praying with their care receivers.

In this way, Stephen Ministry falls under one of the Spiritual Works of Mercy: Comforting the sorrowful. The United States Conference of Catholic Bishops describes this work of mercy as "listening and comforting those who are dealing with grief" and lending "a listening ear to those going through a tough time." That description perfectly matches what Stephen Ministers do in their one-hour, weekly meetings with their care receivers.

Stephen Ministry can be used to offer care and support to both believers and unbelievers. When it comes to spiritual issues people may face when they're suffering, Stephen Ministers learn to follow their care receivers' lead and not push faith on people. But they are always Christ-centered in their caring as a consistent, tangible representation of God's love to suffering people. Because of this sensitive approach to spiritual issues, we often hear stories of how someone who had a Stephen Minister had their faith strengthened or came back to faith after having fallen away.

Stephen Ministry is well suited for carrying out the New Evangelization first proposed by St. John Paul II, especially in connecting with those who have had a crisis of faith. Through their ministry, Stephen Ministers evangelize in a very real way, sharing the Gospel through their care, ministry of presence, and Christian witness.
How Stephen Ministry Can Benefit Catholic Parishes
The many benefits of Stephen Ministry translate very well to Catholic parishes.
Stephen Ministry provides support to priests and deacons in their pastoral care. In most parishes, the needs for emotional and spiritual care far outnumber the number of priests and deacons available to address those needs. Stephen Ministry is a way laypeople can help lighten that load, particularly by offering ongoing care after the immediate crises. Of course, Stephen Ministry will never replace the care of priests and deacons, but it can supplement and expand the amount of care a parish is able to offer.

Stephen Ministry builds on and works well with existing forms of church and community outreach. Catholic parishes have wonderful traditions of service—such as soup kitchens and food pantries, bringing Communion to the homebound, involvement in the St. Vincent de Paul Society, and so on. Stephen Ministry adds to these existing ministries through its unique focus on one-to-one emotional and spiritual care. When those serving in other ministries encounter individuals who could benefit from that kind of care, they can turn to Stephen Ministry. And, when care receivers have additional needs that other church ministries could address, Stephen Ministers connect them with those resources.

Stephen Ministry cultivates community. In addition to the close bonds formed within a parish's Stephen Ministry through training and service together, Stephen Ministry also connects people who receive care to the parish in a powerful way. Stephen Ministry care receivers regularly express how they saw their Stephen Minister as a tangible sign of the church's authentic care for them, growing their connection to the church.

Stephen Ministry is built to last. In many Catholic churches, ministries and programs such as Knights of Columbus, recurring retreats like Christ Renews His Parish, LifeTeen, and others often become an established part of the parish's ongoing ministry, culture, and identity. Churches frequently find the same is true of Stephen Ministry. A proven system is provided, so they don't have to reinvent the wheel—all that's needed is to supply the people and resources to put it into action. Catholic churches have had Stephen Ministry for decades, showing how this ministry can become integrated into the fabric of parish life.
---
Articles about Stephen Ministry in Catholic Churches
With Stephen Ministry thriving in many Catholic churches, we've collected many articles about Stephen Ministry in different parishes. Here are a few.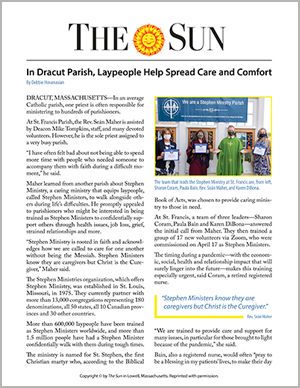 Feel free to download and print the PDFs of these articles to share with others to build support for Stephen Ministry in your parish or organization.
---
To Learn More
If you're interested in learning more about beginning Stephen Ministry:
Give us a call at (314) 428-2600. Our team can talk with you about getting started with Stephen Ministry, send you free informational materials, and answer your questions.

Visit stephenministries.org/begin for a step-by-step overview of how to start Stephen Ministry in your congregation.