In Memoriam
Joan Marie Reimler Haugk
Cofounder of Stephen Ministries St. Louis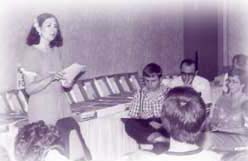 Joan Marie Reimler Haugk was born October 30, 1947, and entered the church triumphant on January 19, 2002, after a three-year battle with ovarian cancer. She died at home, surrounded by her family.
Joan was born in St. Louis and raised in Collinsville, Illinois, while spending part of her childhood in Kansas City, Missouri. She is a 1965 graduate of Collinsville High School.
She received her diploma in nursing from Deaconess Hospital in St. Louis in 1968; a B.S. from Lindenwood College in St. Charles, Missouri, in 1971; an M.S.W. from Washington University in St. Louis in 1973; and a B.S.N. from St. Louis University in 1976. She was a registered nurse, a practicing psychotherapist, a Diplomate in Clinical Social Work, and an Assistant Professor of Psychiatric/Mental Health Nursing at St. Louis University.
Joan married Kenneth C. Haugk on August 31, 1968, a week after receiving her diploma in nursing. The first five years of their marriage were spent in furthering their educations—and moving a lot. They were then blessed with the birth of two daughters: Charity Elizabeth on May 30, 1975, and Amity Victoria on April 26, 1980. Joan selected their first names, while Ken chose their middle names.
Joan often humorously referred to the cofounding of Stephen Ministries in 1975 with her husband as giving birth to her third child. For the first five years, the Haugks headquartered the fledgling organization in their own home, first in a spare bedroom and later in the basement.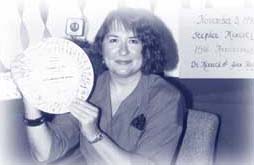 Joan was the first receptionist and customer service representative, often with a telephone tucked under her left ear, writing with her right hand and holding a baby with her left arm. Today, Stephen Ministries serves more than 13,000 congregations worldwide. Joan served as Director of Administration for Stephen Ministries from 1978 until her death.
When asked in 1993 whether the early years of struggle to begin the organization were worthwhile, Joan replied, "I have seen Stephen Ministries grow over the years, directly touching the lives of hundreds of thousands of individuals. The hard work and sacrifice have definitely been worth it."
Through her work with Stephen Ministries, Joan dedicated her life to helping thousands of congregations organize and train their members to provide emotional and spiritual care to people experiencing a crisis or coping with struggles in life. "Joan epitomized the care and compassion that are the heart of Stephen Ministry," said Rev. David A. Paap, Program Director of Stephen Ministries and Joan's colleague for eighteen years. "It was the faith, vision, leadership, creativity, and sacrifice of both Joan and Kenneth Haugk that laid the foundation for Stephen Ministries and nurtured its expanding service to congregations across the country and the world."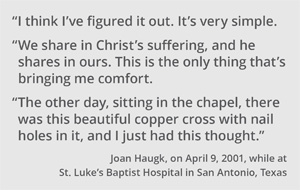 Joan is survived by her husband, Kenneth; her younger daughter, Amity; her elder daughter, Charity Haas, Charity's husband, Dr. Jamie Haas, and their son and Joan's grandson, Caleb, born October 24, 2001.
Memorials
Your contribution to the Joan M. Haugk Memorial Fund will enable Stephen Ministries to strengthen and expand its efforts to provide Christ-centered, practical resources to God's people.

Memorials may be sent to:
The Joan M. Haugk Memorial Fund
Stephen Ministries
2045 Innerbelt Business Center Drive
St. Louis, MO 63114-5765
Share Joan's vision and the vision of Stephen Ministries.
An Article by Joan
Download "Christmas and the Crisis of Childbirth" (in PDF format), an article written in 1985 by Joan Haugk, which relates the Christmas message to the emotional crises that accompany pregnancy and childbirth.