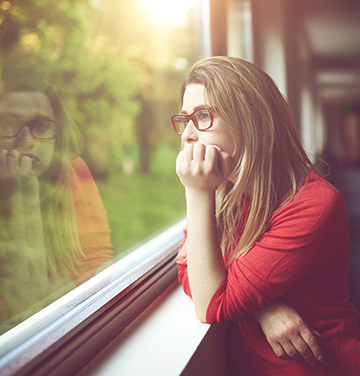 How Stephen Ministry Is Making a Difference during COVID-19
As the COVID-19 pandemic goes on, the needs for care continue to grow in congregations and communities everywhere. People from all walks of life are struggling with a variety of challenges—grief, health concerns, isolation, financial strain, anxiety, and more. In the midst of all this, Stephen Ministry congregations are doing amazing ministry, providing much-needed care.
---
Quality Care through Stephen Ministry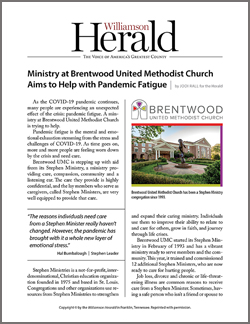 Even when Stephen Ministers cannot meet their care receivers in person, they are adapting their ministry by meeting by phone or video chat and continuing to offer quality care. A great example is in this article about how the Stephen Ministry at Brentwood United Methodist Church in Brentwood, Tennessee, is meeting the growing needs for care.
Many other churches have shared with us how Stephen Ministers are reaching out to people who are hurting right now, often partnering with other ministries in their congregations. Here are just a couple:
"In addition to their regular caring relationships, our Stephen Ministers are involved in our church's new 'Random Chats of Care' program, calling people to see how they're doing—kind of like the chats we'd have over coffee after a service. Having a team of Stephen Ministers gives people assurance that our congregation will take care of them, not just during this crisis but for anything in the future, too."

Connie Brown | Portland Mennonite Church | Portland, Oregon
"Our Stephen Ministers have continued their caring ministry by phone, and people are glad to know somebody cares. Many people are feeling very disconnected and having a tough time right now, so the care our Stephen Ministers offer is especially meaningful."

Julie Sutton | Saint Michael the Archangel Catholic Church | Canton, Ohio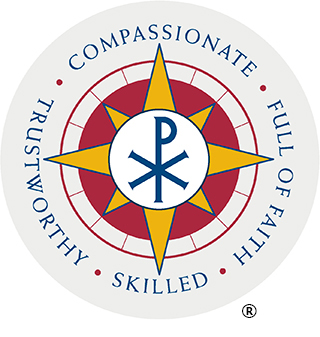 With the Christ-centered skills Stephen Ministers develop through their training, they can adapt their caring to a variety of situations, making them a crucial part of their congregations' caring ministry—both during the pandemic and beyond. As one pastor said:
"Something that's come out of this pandemic is that, more than ever, we make the main thing the main thing. It's renewed our focus on loving people and coming alongside them as they navigate through this thing called life. Stephen Ministry is not an expenditure; it's an investment in caring and in people. We're investing in this ministry, in those who would be Stephen Ministers and Stephen Leaders, and it will really grow the church in return."

Rev. Jerome Barber | Sixth Mount Zion Baptist Temple | Hampton, Virginia
---
Preparing Stephen Ministers during a Pandemic
A trend we've heard about from many Stephen Leaders is the increase in referrals to their Stephen Ministry. One Stephen Leader said:
"We've seen an influx of referrals since COVID-19 started, and people who hadn't thought about having a Stephen Minister before really want one now. They're realizing that these challenges aren't going away anytime soon, and that can be really hard."

Kenneth Brown | Lake Magdalene United Methodist Church | Tampa, Florida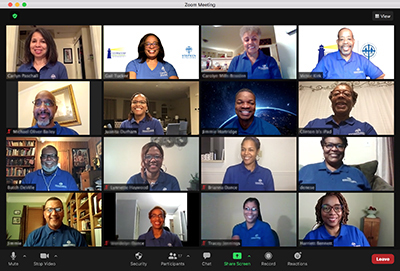 To meet these growing needs for care, many congregations have been training additional Stephen Ministers. Although training typically takes place in person, many churches are adapting to the current situation and training new Stephen Ministers online.
A senior pastor and Stephen Leader described it this way:
"We realized this was actually an important time to get Stephen Minister training going, because people have such great needs for caring ministry. So we conducted a training class over Zoom, and it worked really well—the participants were fully engaged and had a great time. Now, we have 12 newly trained Stephen Ministers ready to care!"

Pastor Victor Kirk | Sharon Bible Fellowship Church | Lanham, Maryland
Congregations all over the world have continued or begun new Stephen Minister training classes online in the wake of COVID-19, making full use of the newly updated Stephen Ministry materials, released in June. As a result, these churches have equipped many more new Stephen Ministers, who are now providing high-quality, distinctively Christian care to those who are suffering.
---
How Stephen Ministries St. Louis Is Helping
Throughout the pandemic, Stephen Ministries St. Louis has been supporting congregations, offering regular updates and new resources.
For example, the new collection of pandemic fatigue resources is helping congregations reach out to people who need a Stephen Minister's care due to struggles connected with COVID-19. Click on the image below to see these resources.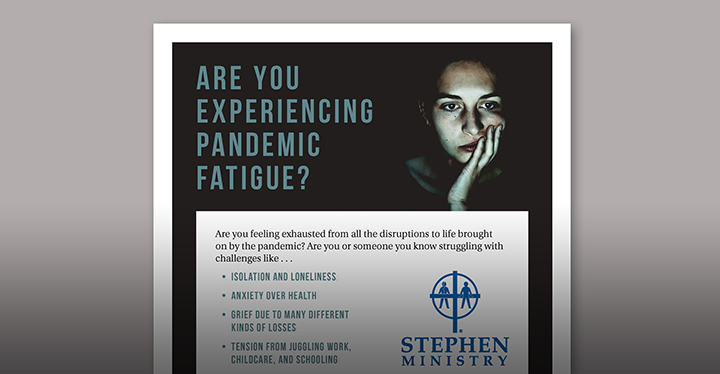 Our experienced staff also continues to provide one-to-one phone consultation to support congregations in their Stephen Ministry.
To see resources from Stephen Ministries St. Louis related to COVID-19, visit stephenministries.org/covid.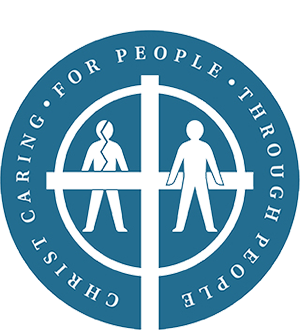 To Learn More about Stephen Ministry . . .
Stephen Ministry is making a big difference in congregations across the US and Canada and around the world amidst the challenges of the COVID-19 pandemic. If you're interested in learning more about Stephen Ministry and how it can enhance your church's caring ministry now and into the future, or if you'd like to receive a free informational packet, give us a call at (314) 428-2600 Monday through Friday, 8:00 A.M.–5:00 P.M. We look forward to the opportunity to talk with you.