Become a Stephen Minister

Welcome!
Becoming a Stephen Minister in your church is a life-transforming experience—an opportunity to serve God, help others, and grow in faith. Here, you'll learn more about what it means to become a Stephen Minister.
Who Are Stephen Ministers?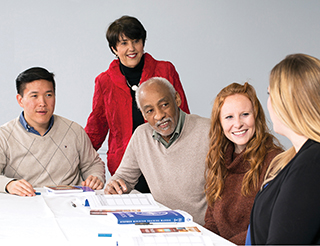 Stephen Ministers are congregation members equipped and commissioned for caring ministry. They come from many different backgrounds, ages, and walks of life, but all have one important thing in common: a heart for bringing Christ's healing love to hurting people.
In short, Stephen Ministers are people like you—caring Christians who want to make a difference in the lives of those going through difficult times.
---
What Do Stephen Ministers Do?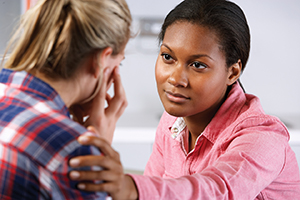 A Stephen Minister walks alongside a hurting person to provide one-to-one, emotional and spiritual care—listening, empathizing, encouraging, helping process feelings, and connecting the person with God's love. Serving in this role is an opportunity to put your spiritual gifts into action and touch people's lives in powerful ways.
Typically, a Stephen Minister meets with his or her care receiver in person for about an hour a week.
---
Who Do Stephen Ministers Care For?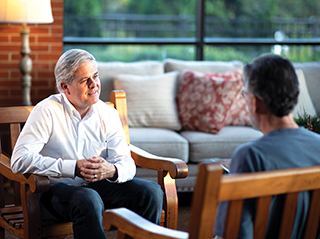 Stephen Ministers provide care for care receivers, people in the congregation or community who are experiencing difficulties in life, such as grief, job loss, divorce, major illness, spiritual struggles, and so on. In the midst of challenging times, receiving care from a Stephen Minister can make a significant difference.
Watch and read stories from Stephen Ministry care receivers here.
---
What Is Stephen Minister Training Like?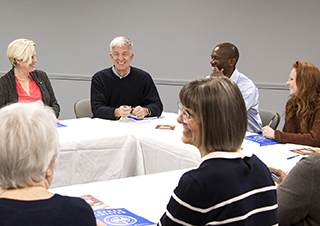 Stephen Minister training is an engaging, interactive experience that fully equips you to provide high-quality, Christ-centered care to people who are hurting. Your congregation's Stephen Leaders will use presentations, discussions, readings, videos, skill practices, and spiritual growth activities to equip and empower you with practical caregiving and relational skills. In addition, the training provides many opportunities for building Christian community and experiencing personal and spiritual growth.
Stephen Ministers often say that their training was life-transforming—helping them to grow in faith and learn relationship principles and skills that deepened and enhanced all the relationships in their life.
Learn more about the Stephen Minister training experience here.
---
What Do Stephen Ministers Have to Say?
Frequently Asked Questions
Click here to display FAQs.
How many people will I be caring for?
As a Stephen Minister, you'll typically have one care receiver at a time. You'll meet with that person once a week for about an hour.
How long does a caring relationship last?
It varies depending on the needs of the care receiver. The guiding principle is that the caring relationship comes to a close when there's no longer a need for the kind of care a Stephen Minister provides.
How long do Stephen Ministers serve?
Stephen Ministers make an initial two-year commitment, which includes their initial training. Many Stephen Ministers find this ministry so fulfilling that they renew their commitment and continue serving for many more years.
What kinds of support will I receive in my congregation's Stephen Ministry?
Stephen Ministers are never alone in their ministry. Your Stephen Leader Team will give you the equipping and ongoing support you need to provide excellent care. You'll also meet regularly in peer supervision groups with your fellow Stephen Ministers, helping and encouraging one another through a close-knit Christian community.
I've never been a caregiver before and I don't have a lot of experience or skills in this area. Can I really do this?
Definitely! Before you're ever matched with a care receiver, you'll be extremely well trained to care for and relate to people experiencing a wide range of life difficulties. And, once you are matched with a care receiver, you will be well-supported as you carry out your ministry.
Know also that you aren't expected to bring about change in the care receiver's life—only God can do that. As the Stephen Ministry motto says, "We are the caregivers, God is the Curegiver."
Over the years, countless people in thousands of Stephen Ministry congregations have wondered, "Can I do this?" And, after Stephen Minister training, they've found that they could indeed be excellent caregivers.
I know Stephen Ministers go through training, but I'm just not sure I have what it takes to provide Christian care. I'm not a Biblical scholar and I haven't been trained as a Christian counselor or anything like that.
Stephen Ministers' caregiving involves skills that are well within the ability of laypeople to learn and use. Plus, using Scripture and other spiritual resources is covered as part of Stephen Minister training, so you'll know when and how to use them effectively and appropriately with care receivers.
What Do I Do Next?
First, pray about the opportunity to serve as a Stephen Minister. Seek the Holy Spirit's guidance and consider how God might be calling you to ministry.
Then, talk with the Stephen Leaders at your church about applying for your congregation's next Stephen Minister training class. They'll let you know what the next steps are and, if you're selected, when training will begin.
God bless you as you prayerfully consider becoming a part of this crucial caring ministry!