7 Strategies for Effectively Recruiting Stephen Ministers
Congregations everywhere are seeing an even greater need for Stephen Ministry, and Stephen Leaders are seeking to add more Stephen Ministers to their teams to help with these increased needs for care.
This page provides seven practical strategies for effectively recruiting Stephen Ministers, both during the pandemic and after the crisis has passed. You'll also find it helpful to review the new and updated resources in Leader's Manual folder S-2A, "Recruiting Stephen Ministers," for ideas.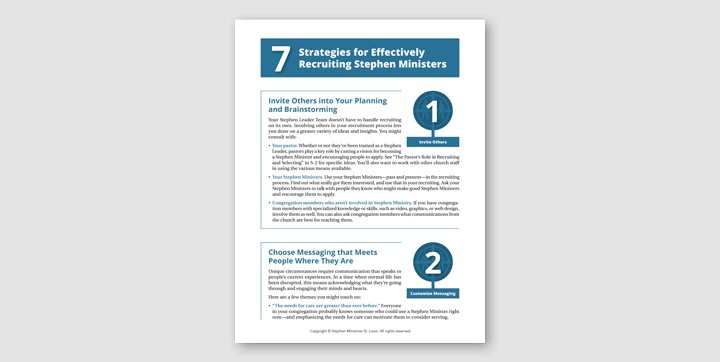 Click to download a print-ready PDF of this resource.
Invite Others into Your Planning and Brainstorming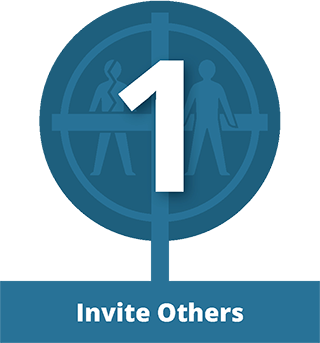 Your Stephen Leader Team doesn't have to handle recruiting on its own. Involving others in your recruitment process lets you draw on a greater variety of ideas and insights. You might consult with:
Your pastor. Whether or not they've been trained as Stephen Leaders, pastors play a key role by casting a vision for becoming a Stephen Minister and encouraging people to apply. See "The Pastor's Role in Recruiting and Selecting" in S-2 for specific ideas.

Your Stephen Ministers. Use your Stephen Ministers—past and present—in the recruiting process. Find out what really got them interested, and use that in your recruiting. Ask your Stephen Ministers to talk with people they know who might make good Stephen Ministers and encourage them to apply.

Congregation members who aren't involved in Stephen Ministry. If you have congregation members with specialized knowledge or skills in areas such as video, graphics, or web design, involve them as well. You can also ask congregation members what communications from the church are best for reaching them.
---
Choose Messaging that Meets People Where They Are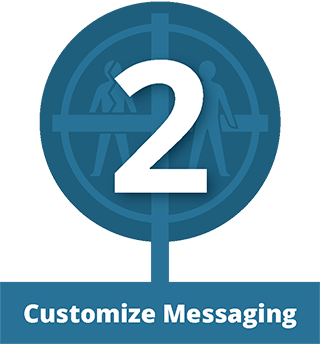 Unique circumstances require communication that speaks to people's current experiences. In a time when normal life has been disrupted, this means acknowledging what they're going through and engaging their minds and hearts.
Here are a few themes you might touch on:
"The needs for care are greater than ever before." Everyone in your congregation probably knows someone who could use a Stephen Minister right now—and emphasizing the needs for care can motivate them to consider serving.

"God has been preparing you for this moment." God is always at work in people's lives. Sometimes, people just need a gentle nudge to help them realize how God has been preparing them for ministry and to see how they can grow through serving.

"Stephen Ministry is a powerful source of Christian community." Isolation is a major struggle for many right now, and Stephen Ministry offers a powerful solution. Not only does it give care receivers the gift of Christian community through their Stephen Minister, but it also provides Stephen Ministers community through their training class and Supervision Groups.
Talking to your pastor, church staff, Stephen Ministers, and others in your congregation may help you identify other possible themes.
---
Promote Stephen Ministry in Your Congregation's Regular Communications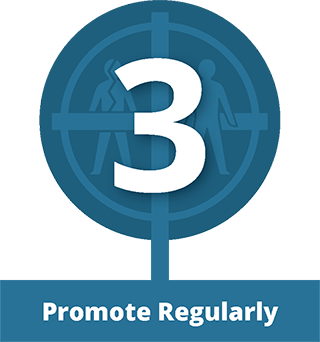 Use existing ways your church is communicating to recruit Stephen Ministers. These might be slides shown during online worship service announcements, newsletters, emails, or your church's social media pages. Again, having your pastor involved from the start can make a big difference.
If possible, it can be good to create dedicated communications about Stephen Ministry, such as standalone emails and social media posts, in addition to mentions in broader communications (such as a regular blurb in the church newsletter).
Helpful resources for many different kinds of communications can be found in the Stephen Leader Online Toolkit, particularly in S-1, "Publicize, Educate, and Cast a Vision."
---
Be Intentional in Your Recruiting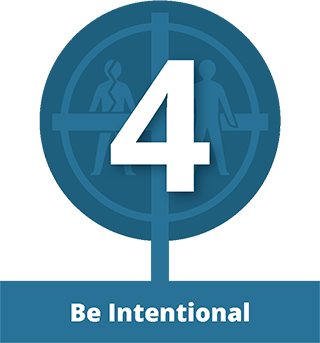 Intentional recruiting is always key, but it's even more important when you may have limited in-person interactions with potential Stephen Ministers. Following are a few key points to keep in mind:
Take initiative in seeking people out. Don't just rely on people contacting you to say they're interested in becoming a Stephen Minister. Rather, reach out to and invite specific individuals you think would be good Stephen Ministers.

Communicate assertively. Clearly share about the benefits, commitment, and process of becoming a Stephen Minister. And, when the time is right, assertively say, "I think you'd make a great Stephen Minister, so I encourage you to apply."

Enlist others to help you identify potential Stephen Ministers. When you aren't able to meet potential Stephen Ministers in person, it's more important than ever to seek others' help in finding them. Your pastor, small group leaders, ministry team coordinators, and anyone else who has contact with congregation members can all be part of your recruiting efforts. Let them know what you're looking for and what information to pass along to you.
---
Hold an Informational Session by Videoconferencing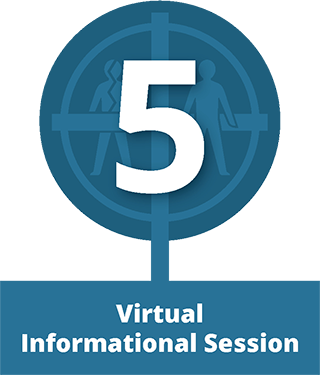 If it isn't possible to hold an in-person informational meeting about Stephen Ministry, host a virtual informational meeting through videoconferencing. The content of the meeting can be similar to that of an in-person session, but holding informational meetings gives you a chance to interact and connect with potential Stephen Ministers and answer their questions directly. Plus, it helps communicate that your Stephen Ministry will keep going strong while protecting people's health and safety.
---
Share Stories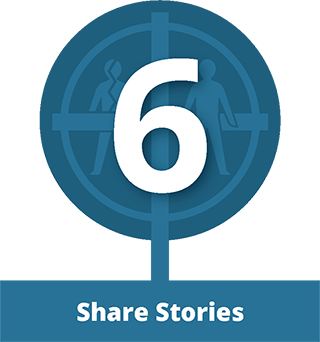 Stories are a powerful way to engage people's hearts and help them envision the positive impact they can have by serving as a Stephen Minister. You might ask your Stephen Ministers, previous care receivers, or others to talk about their experience with Stephen Ministry. You could also share stories from Stephen Ministries St. Louis, like the ones found at stephenministries.org/stories.
Think through which methods—video, print, presentation, or other—are possible for your congregation and which will communicate most powerfully to potential Stephen Ministers.
---
Share the "Become a Stephen Minister" Webpage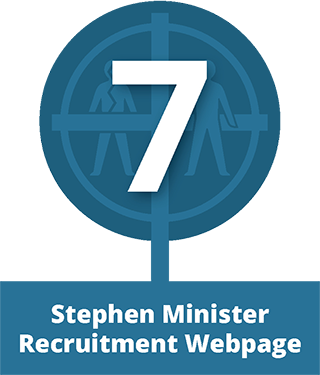 Stephen Ministries St. Louis has developed a brand-new webpage and video you can share with potential Stephen Ministers to help them learn more about what it means to be a Stephen Minister. Designed to answer questions people may have and to show the many benefits of serving as a Stephen Minister, it can be a powerful tool in your recruiting.
Visit this new webpage at stephenministries.org/serve.
For additional ideas and help in recruiting Stephen Ministers, you can also turn to these two resources.
The Stephen Leader Online Toolkit is accessible to Stephen Leaders who have the new 2020 Leader's Manual. It contains a regularly updated library of resources and tools for recruiting Stephen Ministers, such as a customizable "Seven Reasons to Consider Becoming a Stephen Minister" bulletin that can be shared with potential Stephen Ministers.

The Consultation Staff at Stephen Ministries St. Louis is available Monday through Friday, 8:00 A.M. to 5:00 P.M. Central Time, at (314) 428-2600. Our highly trained consultants would be happy to talk with you about your specific situation, point you toward helpful resources, and help you strategize.