Exceptional Resources. Extraordinary Care.
---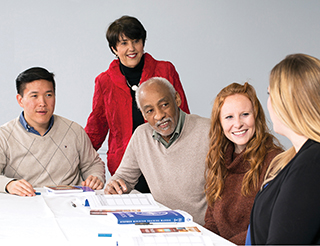 Released in May 2020, Stephen Ministry 2020 is a brand-new set of resources for congregations to use in implementing Stephen Ministry.
Built on 45 years of experience in caring ministry, it blends proven methods and a solid biblical foundation with fresh ideas and contemporary research to equip churches for one timeless goal: providing the best Christ-centered care possible to people who are hurting.
State-of-the-Art Training
Since 1975, Stephen Ministry training has been the premier curriculum for preparing laypeople to provide high-quality, Christ-centered care as Stephen Ministers. Now, the training has been made better than ever, with:
New editions of key training resources, including the Stephen Minister Training Manual and the books Christian Caregiving—a Way of Life and When and How to Use Mental Health Resources

In-class activities that draw on a variety of learning methods to engage Stephen Ministers and equip them with valuable knowledge and practical skills

An increased focus on spiritual growth of Stephen Ministers so that they develop not only as caregivers, but also as disciples of Christ

Up-to-date approaches to key topics like using communications technology in caregiving relationships, crisis theory, mental health, and caring for people experiencing medical crises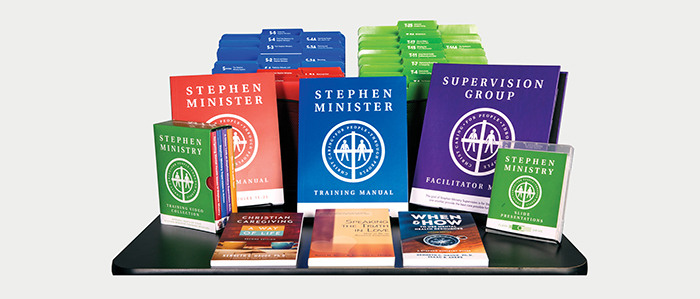 Here's what people are saying about Stephen Minister training:
"This training is transformative. Our Stephen Minister class started out unsure whether they could do caring ministry at all, let alone provide quality care. When we finished, though, everyone was ready to share in the work of ministry."

Marcus | Pastor | Florida
"As a grad student who is studying psychology, I really appreciate how current and fresh the material is. It's easy to teach, engaging to the class, and provides a great level of spiritual and psychological depth."

Lane | Stephen Leader | Oregon
"This training has given me everything I needed to be a Stephen Minister—knowledge, skills, increased compassion, and an enriched faith. It's the best training I've ever had."

Lisa | Stephen Minister | Missouri
---
A Proven System That Meets the Needs of a Changing Church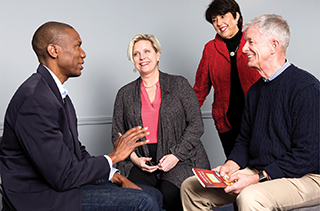 Stephen Ministry has been used by more than 13,000 congregations of all sizes and in diverse settings to make a profound difference for people in the church and community who are hurting. Stephen Ministry 2020 presents the latest iteration of this time-tested ministry.
The enhanced training for Stephen Ministers is just one part of Stephen Ministry 2020. It also features:
An intuitive, highly effective system for lay caregiving ministry, refined over the years by incorporating feedback from thousands of congregations based on their real-world experience with Stephen Ministry

A wealth of user-friendly leadership tools that provide guidance and insights for every aspect of Stephen Ministry—so there's no need to reinvent the wheel

Dedicated resources and training that address key issues churches face today—outreach to the unchurched, recognizing and responding to mental health issues, and other common challenges

A robust, regularly updated library of online resources to supplement the manuals, videos, and other materials used in Stephen Ministry
Here's what people have told us about their experience with the Stephen Ministry system:
"I am a firm believer in the Stephen Ministry system as a method for empowering laypeople as Christian caregivers. The thought and care put into it by the Stephen Ministries staff, along with the many contributions of the whole Stephen Ministry community, are why it's stood the test of time."

Dave | Stephen Leader | Massachusetts
"All the tools provided as part of Stephen Ministry are thorough, well written, and well organized. They're clear and concise, focusing your attention on the most important practices and guidelines to give your Stephen Ministry a solid foundation for success."

Roberta | Stephen Leader | Georgia
---
A Great Reason to Start Stephen Ministry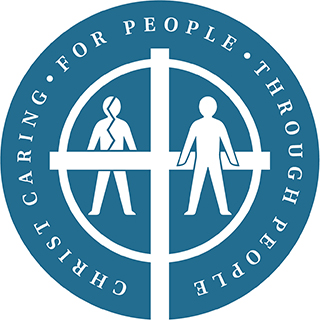 The newly available Stephen Ministry 2020 resources are a great reason to begin Stephen Ministry in your congregation—a chance to be on the cutting edge of a distinctively Christian caregiving ministry that has been helping churches bring Christ's healing love to the hurting for decades.
If you're interested in learning more about beginning Stephen Ministry:
Give us a call at (314) 428-2600. Our team can talk with you about getting started with Stephen Ministry, send you free informational materials, and answer your questions.

Visit stephenministries.org/begin for a step-by-step overview of how to start Stephen Ministry in your congregation.
The mission of Stephen Ministries St. Louis is to "equip the saints for the work of ministry" (Ephesians 4:12). We're excited about continuing to live out that mission by helping you explore Stephen Ministry—so your congregation can expand your care to those facing the pain and challenges of life. May God bless you and those you care for.