The Story behind Stephen Ministry
In this interview, Dr. Kenneth Haugk, the founder and Executive Director of Stephen Ministries St. Louis, sits down with Peter Rosenberger, host of the nationally syndicated radio show Hope for the Caregiver. Dr. Haugk shares about the beginning of Stephen Ministry, his personal experience receiving care, and how congregations can get involved with this lay caring ministry.
The interview can be streamed using the player below or downloaded from SoundCloud for offline listening.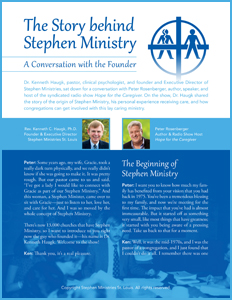 Stephen Ministries would like to thank Peter Rosenberger for inviting Dr. Haugk to appear on Hope for the Caregiver. Peter has been a caregiver for more than 30 years, walking alongside his wife, Gracie, through numerous medical challenges. The author of Hope for the Caregiver: Encouraging Words to Strengthen Your Spirit, he has spoken to conferences and organizations across the country on the topic of caregiving. For more about Peter's mission and work, visit his website, Caregivers with Hope.
Since Dr. Kenneth Haugk began Stephen Ministry in 1975, it has reached over 13,000 congregations from more than 180 denominations in the United States and around the world. More than 600,000 laypeople have trained as Stephen Ministers, and they in turn have provided care to millions of hurting people.
To learn more about Stephen Ministry or how to start it in your congregation, call Stephen Ministries St. Louis at (314) 428-2600.