Caring for Grieving People during the COVID-19 Crisis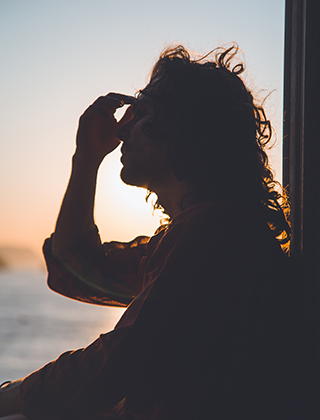 Grieving the loss of a loved one is difficult under any circumstances, but the effects of the ongoing coronavirus crisis have made grief even harder for many.
Whether or not a death was directly due to the coronavirus, factors like these compound the pain and isolation that many grieving people feel. Pastors, chaplains, and other caregivers are working diligently to provide as much care as they can, but current conditions limit what they're able to do right now. That's where the care you offer can make a big difference.
Principles for Caring for a Grieving Person during Social Distancing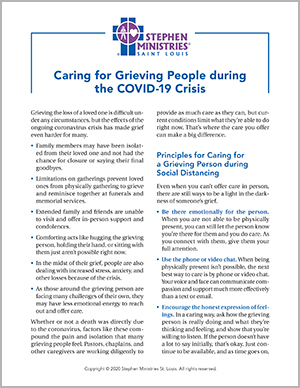 Even when you can't offer care in person, there are still ways to be a light in the darkness of someone's grief.
Even though it's not the same as in-person care, these behaviors can make a big difference to someone who's grieving, especially during these times when people may be feeling very alone.
For additional caring tips:
Using
Journeying through Grief

to Care for a Grieving Person

Journeying through Grief is a set of four short books to send to people at four crucial times during the difficult first year after losing a loved one. Each book focuses on what the person is likely to be feeling at that point in their grief, providing care, support, compassion, and hope.

Sending the Journeying through Grief books is a tangible, meaningful way to show you care, especially during times when you can't be there in person.
A Special Set of Sample Letters to Use During the COVID-19 Crisis
It's helpful to include a personal note or letter with each book as a further expression of your care. In addition to the original set of sample letters for the books, we've created a new set of sample letters to include when sending them to people who are grieving during the COVID-19 pandemic.
To use these new sample letters, copy and paste the text into a word-processing program and then adapt the text as needed for the person you'll be sending Journeying through Grief to. (The Journeying through Grief Giver's Guide provides additional suggestions.)
Note that these letters are for anyone grieving a lost loved one during the COVID-19 crisis—not necessarily those whose loved one died from the coronavirus.