Edna Neubauer: A Legacy of Care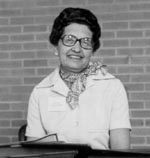 After a lifetime filled with many dedicated acts of caring, Stephen Leader Edna Neubauer died at the age of 91. Before her death, Edna found one more way to serve the Lord through Stephen Ministry. When she drew up her will, she included a specific bequest for Stephen Ministries St. Louis. Her thoughtful gift will carry her legacy of care on into the future.
Edna grew up in Bloomington, Illinois, one of nine children. It was there that she met and married Ab Neubauer. The two served many years as missionaries in Africa until Ab passed away. Edna then returned to Bloomington, where she cared for her aging mother.
"Edna was a true model of selfless giving," said fellow Stephen Leader Ginna Lundeen. "After she lost her husband and her mother, she worked on the staff at her home church as a caring visitor."
Edna helped launch Stephen Ministry at St. John's Lutheran Church in Bloomington and was a steady presence there for more than a decade.
"One of the greatest honors of her life was to help start Stephen Ministry at St. John's," said Edna's niece Carolyn Fox, also a Stephen Leader. "She told me that Stephen Ministry was the perfect way for her to serve the Lord, and she wanted to share it with as many others as possible. Training Stephen Ministers was probably the greatest joy for her."
Don and Val Gall were among Edna's first Stephen Ministers. Recalls Val, "When we first heard about Stephen Ministry, we were uncertain about pursuing it. But Edna patiently explained Stephen Ministry to us and didn't give up for several months. She was sure God wanted us in this ministry. Finally we agreed to become Stephen Ministers.
"I am eternally thankful for what God began in our lives with Edna's encouragement so many years ago," says Val.
We thank God for Edna, for her vision for ministry, and for her tangible efforts to grow Stephen Ministry for future generations.
Leave Your Own Legacy by Making a Gift to Stephen Ministries St. Louis
Stephen Leaders, Stephen Ministers, and others sometimes make charitable gifts by naming Stephen Ministries St. Louis as a beneficiary in their wills. Your charitable gifts will bless many people and congregations for years to come. We encourage you to consult with your attorney and/or tax advisor as you plan your gift.
If you would like more information or to discuss possibilities, contact us at (314) 428-2600.