Cancer—Now What?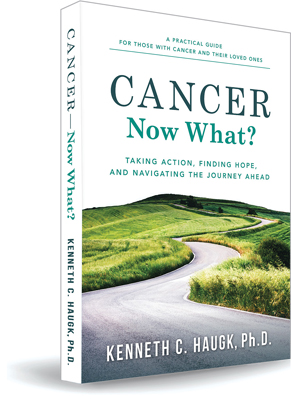 A Way to Offer Help and Hope to Those Facing Cancer
All too often we hear that someone we know is facing cancer. A friend, relative, or neighbor—or a colleague, church member, customer, patient, care receiver, or client—receives the devastating news of a cancer diagnosis.
During such a difficult time, we want to reach out with support and care, to offer help and hope. But how? A simple, powerful way is to give a copy of Cancer—Now What? This book is a comprehensive how-to guide that helps cancer patients and their loved ones navigate the medical, emotional, relational, and spiritual challenges of cancer.
A Practical, User-Friendly Resource
Cancer—Now What? covers a wide range of challenges that those with cancer and their loved ones may face. This book is organized into four topical sections.
Each copy of Cancer—Now What? also includes a Quick Tips card, which offers suggestions for how readers might use the book.
Medical
Asking the right questions at the right time

Finding reliable information

Tracking medical information effectively

Helping your medical team help you
Emotional
Coping with the emotional aftershocks

Finding ways to express difficult feelings

Not letting cancer define you

Caring for yourself
Relational
Getting the support you need

Updating others without wearing yourself out

Creating a safe place within your family

Connecting with those who have faced cancer
Spiritual
Finding spiritual support

Weathering spiritual storms

Being totally honest with God

Asking hard questions without feeling guilty