Stephen Ministry Vision-Building Kit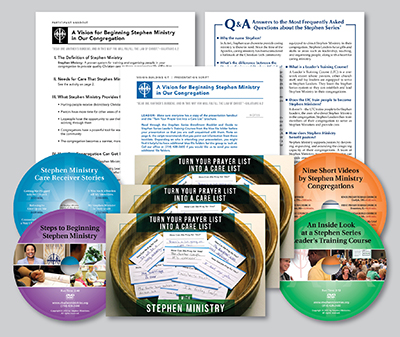 The Stephen Ministry Vision-Building Kit contains resources and ideas that you can use to introduce Stephen Ministry to people in your congregation and build support for getting it started.
This kit includes—
1. "The Road to Stephen Ministry"
A four-page item that offers a number of proven and effective ways to build support for Stephen Ministry in your congregation.
2. Four DVDs about Stephen Ministry
These DVDs let viewers see and hear firsthand the difference Stephen Ministry is making in people's lives.
Four Stephen Ministry Care Receivers

Steps to Beginning Stephen Ministry

Nine Short Videos by Stephen Ministry Congregations

An Inside Look at a Stephen Series Leader's Training Course
Showing these videos to individuals and groups in your congregation will touch people's hearts and help them catch a vision for this life-changing ministry.
3. "A Vision for Beginning Stephen Ministry in Our Congregation"
A scripted vision-building talk you can present in your congregation to help people see the need for and value of Stephen Ministry—and to build support for enrolling. The easy-to-use presentation includes a four-page handout you can photocopy for everyone who'll attend.
4. "Turn Your Prayer List into a Care List"
Brochure
The Stephen Ministry Vision-Building Kit includes a dozen copies of this concise brochure, which makes a great handout anytime you're talking with others about Stephen Ministry.
5. "Q&A: Answers to Frequently Asked Questions about Stephen Ministry"
This two-page item will help you answer the most common questions people ask about Stephen Ministry.
Call Stephen Ministries at (314) 428-2600 (Monday through Friday, 8 A.M. to 5 P.M. Central Time) to request a copy of the Stephen Ministry Vision-Building Kit.