Mission and Ministry
of Stephen Ministries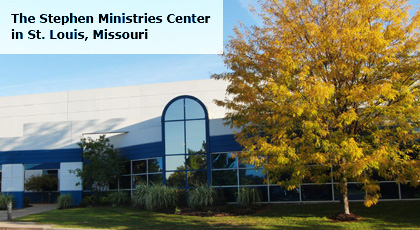 Since 1975, the 40-person staff of Stephen Ministries St. Louis has developed training and resources characterized by excellence, practicality, psychological integrity, and theological depth. Stephen Ministries offers books, courses, training conferences, and a lay caregiving ministry system to fit the needs of every Christian congregation or individual.
To accomplish this, Stephen Ministries St. Louis offers:
The Core Purpose (Mission) of Stephen Ministries
Stephen Ministries' Core Purpose is summed up in the words of St. Paul in his letter to the Ephesians. These verses have been rendered by renowned calligrapher Timothy Botts on the entryway wall to the Stephen Ministries Center, boldly proclaiming the mission to everyone who enters.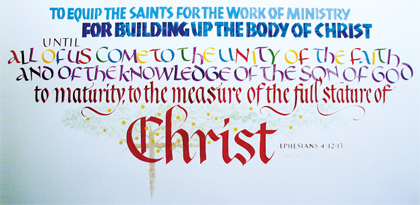 "To equip the saints for the work of ministry, for building up the body of Christ, until all of us come to the unity of the faith and of the knowledge of the Son of God, to maturity, to the measure of the full stature of Christ" (Ephesians 4:12-13).
The Core Values of Stephen Ministries
Incarnational theology

Ministry as the privilege and responsibility of all God's people

Empowering those we serve to get excellent results

Personal humility

Organizational stability

Positive work environment

Stephen Ministry Facts and Stats

Learn about the History of Stephen Ministries
Learn about Career Opportunities with Stephen Ministries