History of Stephen Ministries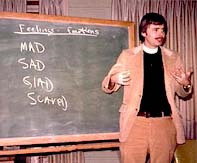 In 1975 Rev. Kenneth C. Haugk, Ph.D., a pastor and clinical psychologist, saw that people's needs for care in his congregation and community far exceeded what he alone could provide. He developed materials to train nine of his congregation members to provide quality, one-to-one Christian care to individuals experiencing a life crisis. Upon completion of their training, he commissioned them as "Stephen Ministers" and linked them with people with a variety of needs for care. "Stephen Ministry" was so successful in his church that other congregations wanted to become involved. Dr. Haugk then founded the Stephen Ministries organization and developed the Stephen Series, which now has been implemented in more than 11,000 congregations representing more than 150 Christian denominations. More than 500,000 laypersons have been trained as Stephen Ministers, who in turn have ministered to more than a million care receivers.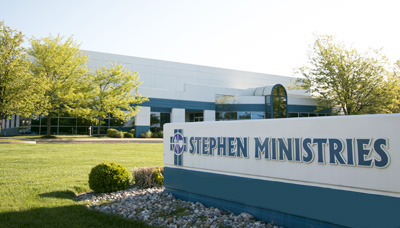 The Stephen Ministries Center was dedicated to the glory of God on May 3, 1998, and is the first permanent home for Stephen Ministries since it was founded in 1975. This new 38,015 sq. ft. facility gives Stephen Ministries the capacity to serve the church more effectively for decades to come.
In 2004 Stephen Ministries released two new--and very popular--resources, Journeying through Grief and Don't Sing Songs to a Heavy Heart. Both were written by Dr. Haugk after losing his wife Joan (cofounder of Stephen Ministries) to ovarian cancer.
Beginnings
Dr. Kenneth C. Haugk, Founder and Executive Director of Stephen Ministries, describes its beginnings:
It was 1975. Fresh out of seminary and graduate school in clinical psychology, I had high hopes for providing pastoral care to people in my congregation and community. That's where my gifts were. That's why I felt called to the pastoral ministry--to bring Christ's love to hurting people.

But reality quickly set in. There were so many needs and only one of me. And only so many available hours in a day. I had a church full of needs, but also a church full of people. So the solution was obvious: "equip the saints for the work of ministry, for building up the body of Christ" (Ephesians 4:12 NRSV). Stephen Ministry was born.

I trained nine lay caregivers in that first class. A secretary. A teacher. An insurance agent. A business woman. A student. An executive. A homemaker. A beautician. A retiree. They were "ordinary" church people, but I was immediately impressed by the seriousness they put into their training and the enthusiasm they showed at the opportunity to be involved in hands-on ministry.

After I assigned each of them to a care receiver, I was equally impressed by the care they provided--and the joy they discovered as they saw Christ working through them to bring hope and healing to another person.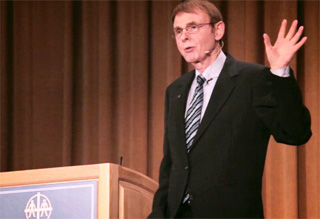 Dr. Haugk's experiment was a success--laypeople really could provide quality caring ministry. But this wasn't really a new discovery; laypeople doing ministry has been part of God's plan from the beginning. Which is probably why Stephen Ministry has grown the way it has, exceeding even Dr. Haugk's wildest dreams.
Out of that humble beginning more than a quarter century ago there are now thousands of congregations with Stephen Ministry. Tens of thousands of pastors and lay leaders trained as Stephen Leaders to direct Stephen Ministry in those congregations. And hundreds of thousands of lay Stephen Ministers reaching out with Christ's love to hurting people. But biggest of all is the number of people whom God has cared for through a Stephen Minister. More than a million--and growing.
And God isn't done yet. There is so much more that is being accomplished through Stephen Ministry in those thousands of congregations, like yours. And can be in countless others in the years to come.
Founder
The Rev. Kenneth C. Haugk, Ph.D., Executive Director of Stephen Ministries St. Louis, is a pastor and clinical psychologist. In 1975, he and his wife, Joan, founded the Stephen Ministries organization and began the Stephen Series system of lay caring ministry, now used by 11,000 congregations from 150 denominations. Dr. Haugk is the author of many books, including the best-selling Christian Caregiving--a Way of Life, Antagonists in the Church, Reopening the Back Door, The Quest for Quality Caring, When and How to Use Mental Health Resources, Discovering God's Vision for Your Life: You and Your Spiritual Gifts resources, Journeying through Grief, Don't Sing Songs to a Heavy Heart, and Leader Killers. He is a frequent speaker at church conferences and workshops.
Organization Snapshot
Founded in 1975

Not-for-profit organization

Based in St. Louis, Missouri

Has a staff of about 45 dedicated people--pastors and laity--from a variety of denominational backgrounds

Produces high-quality training and resources for equipping ministry

Produces Journeying through Grief, Don't Sing Songs to a Heavy Heart, Leader Killers,

books, videos, courses, and other resources to enhance ministry in congregations

Conducts six one-week training courses every year for 2,500 pastors, other church staff, and lay leaders from a wide range of professions

Conducts 80 half-day Stephen Ministry Workshops annually across North America

More than 11,000 congregations involved in one or both of the Stephen Ministries ministry systems

More than 500,000 Stephen Ministers (lay caregivers) trained

More than one million people have been the formal recipients of the one-to-one care of Stephen Ministers, while millions of others have received the care of a Stephen Minister in a less formal way