Journeying through Grief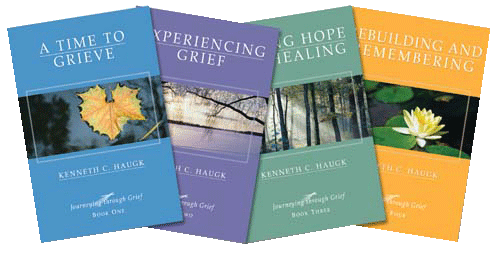 A Simple Yet Powerful Way to Care
for People Who Are Grieving
Journeying through Grief is a set of four short books to send to people at four crucial times during the first year after a loved
one dies.
Book 1: A Time to Grieve
. . . sent 3 weeks after the loss
Book 2: Experiencing Grief
. . . sent 3 months after the loss
Book 3: Finding Hope and Healing
. . . sent 6 months after the loss
Book 4: Rebuilding and Remembering
. . . sent 11 months after the loss
Each book focuses on what the person is likely experiencing at that point in grief--offering compassion, understanding, and hope.
Who uses Journeying through Grief?

Pastors and congregations are sending the books to people in the congregation and community who are grieving.

Individuals are sharing them with family and friends after a loss.

Hospices, funeral homes, and other organizations send them to grieving family members.

Many people use them in their own personal grief ministry. For example, a dentist sends them to patients; a teacher gives them to other teachers; and a stock broker shares them with clients.
Author Kenneth C. Haugk, writes in a warm, caring style with short, easy-to-read chapters. He fills the pages with helpful information about grief, Biblical truths, and stories that provide comfort and reassurance.
Read what people are saying about Journeying through Grief. People will truly appreciate receiving them from you--they'll feel cared for and remembered by you again and again during that difficult first year.
Order a set for yourself, and several to share.

Each set includes four mailing envelopes and a Tracking Card that makes it easy to remember just when to send each book.
The Journeying through Grief Giver's Guide
A helpful handbook for those who are giving the Journeying through Grief books to others, the Giver's Guide provides:

Suggestions for how to use the books;

Ideas for tracking when to send each one;

Links to helpful online resources;

Sample letters to personalize and adapt to send with each book;

And more.
Related Resource:
Don't Sing Songs to a Heavy Heart:
How to Relate to Those Who Are Suffering
A book filled with practical ideas and helpful suggestions for how to care for people who are experiencing grief and other life difficulties.
Learn about other grief ministry resources Stephen Ministries offers.