Stephen Ministry Facts and Stats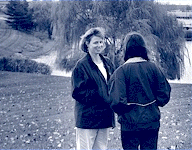 Stephen Ministry began in 1975.
The Stephen Series is now in more than 11,000 congregations from more than 150 Christian denominations, in all 50 states, 10 Canadian provinces, and 24 other countries.
More than 60,000 pastors, church staff, and laypersons have been trained as Stephen Leaders (those who oversee and direct Stephen Ministry in the congregation) at a Stephen Series Leader's Training Course.
More than 500,000 people have trained as Stephen Ministers in their congregations.

More than a million people have received care from a Stephen Minister in a formal one-to-one Stephen Ministry caring relationship, and millions of others have received care from Stephen Ministers in informal ways.
The following resource pages contain more information about the Stephen Series. (in Adobe Acrobat PDF format)
Stephen Ministry Media Fact Sheet
Two pages with a brief history of Stephen Ministry, definitions of the basic terms, and current Stephen Ministry statistics. Also provides information you can include in announcements or articles in your church's publications.
A map of the United States and Canada, showing how many congregations are enrolled in the Stephen Series in each state or province. Provides an overview of Stephen Ministry worldwide as well as in your state or province.