Attend a
Stephen Ministry Workshop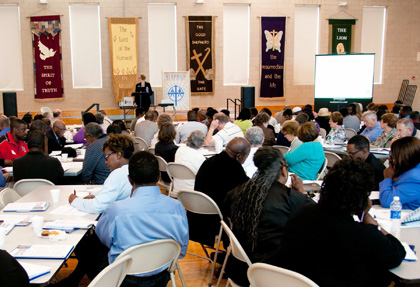 Christ at work in and through gifted, trained lay caregivers--that's the Stephen Ministry vision!

This half-day event will show you how to make that vision a reality.
In three sessions, you and your team will gain hands-on ministry skills through a sample of Stephen Minister training, deepen your vision for care and outreach, and learn how to bring the life-changing benefits of Stephen Ministry to your congregation.
All workshops are on Saturdays, 9 A.M. to 1 P.M.
Session 1:
Ministering to Those Experiencing Grief
Experience a sample of Stephen Minister training

Develop grief ministry skills you can use right away
Session 2:
An Introduction to Stephen Ministry

Learn about this life-transforming ministry

Discover how to bring Stephen Ministry to your congregation
Session 3:
How to Care in a Distinctively Christian Way
Gain insights on integrating faith into everyday caring and relating

Understand the Christ-centered nature of Stephen Ministry
Who Should Attend?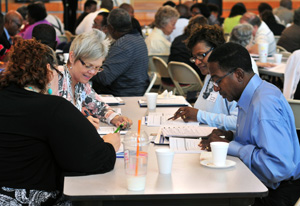 Cost: $15 per person or $50 for a group of four or more from your congregation or organization.

Workshop Dates
and Locations

Stephen Ministry Workshops are hosted at Stephen Ministry congregations across the United States.
How to Register
To Register Online (using a credit card)

Locate

the workshop you wish to attend

.

Click on "Register" and complete the online registration form.
To Register by Phone
Call the Stephen Ministries Center at (314) 428-2600.
(Monday to Friday, 8 A.M. to 5 P.M. Central Time)

To Register by Mail or Fax

Download a registration form.

(Microsoft Word format)

Mail or fax the registration form to Stephen Ministries.
(Instructions are on the form.)

If You Cannot Attend a Workshop
Learn More about Stephen Ministry

Receive a Free Packet of Information about Stephen Ministry
Download Free Resources about Stephen Ministry