Blue Christmas
Helping Hurting People Cope
with the Holidays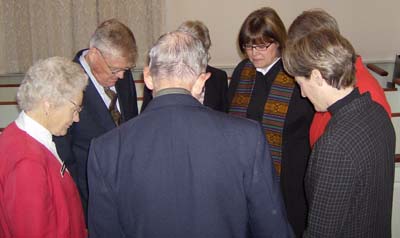 "Joy to the world, the Lord is come!"
Brightly wrapped packages, Christmas trees, holiday parties, holly and the scent of pine, unending upbeat carols in shops and malls, visits from friends and family, baking and cooking, food everywhere--and the awed, hushed joy of welcoming a tiny Infant to our world and our hearts--these are the images and memories of Christmas most of us celebrate and treasure.
But each year some people--the grieving, the lonely, the hopeless
--dread the approach of the holiday season. They have no heart for the cheer and the bustle, the anticipation and the excitement.
Across the country Stephen Ministry congregations recognize the struggles grieving people often face during the holidays. In the weeks before Christmas they focus ministry efforts on special worship services, classes, seminars, support groups, continuing education presentations--even holiday parties.
Read about what some congregations have planned--and consider how you might reach out to those for whom the holiday bells ring hollow this year.
Blue Christmas:
A Service of Comfort and Hope
Peachtree Presbyterian Church,
Atlanta, Georgia
Four years ago Peachtree Presbyterian began Blue Christmas, a Stephen Ministry-sponsored service early in Advent for people who know that "this Christmas will be a hard one, either because they have had a death in the family, a loss or broken relationship or because of painful memories of Christmases past," said Pastor Vicki H. Franch, also a Stephen Leader. Refreshments are provided after the service, and Stephen Ministers, wearing their nametags, are also available to speak with people who would like to talk.
Peachtree's Blue Christmas acknowledges the pain and sadness many people experience as the holidays approach but also encourages people to move toward hope. "We move the mood from solemn to hopeful over the course of the service by choosing music, lighting (warming the lights from blue to bright gold), and Scriptures that give full expression to both sorrow and the longing for hope," said Vicki. "Christmas is for everyone, especially those who are in deep darkness, for on them the light has shined, too!"
Those who attend are invited to light candles; a violinist and the children's choir provide some of the music. "Children are a visible reminder of our hope and confidence in the future," said Vicki. "We need to see and hear kids when we are grieving because they remind us that life is good and life goes on."
Each person who attends receives information about grief support groups, Stephen Ministry, counseling options and the like, as well as a small gift themed to that year's Blue Christmas service. "For example, one year we used the Scripture from Isaiah 11 about 'A shoot will come up from the stump of Jesse,' and we sent them home with a little tree seedling that they could plant," Vicki said.
"We want people to leave with a good idea of all the resources Peachtree has to offer them: pastors, the Counseling Center, Stephen Ministers, bereavement and other support groups, and the bookstore," Vicki said. "No one needs to be without a kind listening ear or good information at Peachtree. We really are a congregation that cares."
Blue Christmas
Forest Grove United Church of Christ,
Forest Grove, Oregon
Carlene Krueger, a Stephen Minister for twenty years and a Stephen Leader for seven, helped Forest Grove United Church of Christ launch in 2004 what would become an annual event: the "Blue Christmas" service. This very simple time for meditation, worship, singing, and prayer, sponsored by Stephen Ministry with guidance from the pastors, has become a haven for those needing God's special touch during the holidays.
A unique aspect of the service is the prayer shawl. Each person attending is wrapped in a navy-blue shawl, knit by a member of the congregation. Each person has time to share the issues that brought him or her to the service. Then the one who has placed the shawl on that grieving person prays for him or her.
"One year we prayed for a young woman who was pregnant," Carlene said. "She had lost a baby and was very fearful about this pregnancy. We wrapped her in the shawl and prayed for her and for her baby. This is a very healing and wonderful way to touch people who are grieving.
"Those who have attended tell us that they are thankful for the gift of touch. They thank us for allowing them a place to grieve and not have to put on that happy face."
Stephen Ministers also make special contact with their care receivers during the holiday season, offering tangible comfort through the prayer shawls.
Throughout the year on the second Sunday of each month, the prayer shawls are blessed during the worship service. Following the service, Stephen Ministers are available to talk with those who are dealing with difficulties.
A Mustard Seed Christmas
Forest Brook Community Church,
Ajax, Ontario, Canada
When Donna Moss, Stephen Leader and director of pastoral care, read a story called "A Mustard Seed Christmas," she loved it immediately because it spoke to the reality of so many during the holiday season. She read it to the congregation one Sunday evening during Advent, noting that the Christmas season can be challenging for those who are grieving.
Each year, everyone who has lost a family member during the year is invited to a reception following one of the Sunday morning services between Thanksgiving and Christmas. While some are personally invited, the invitation is open to all. Stephen Ministers invite their care receivers. All who come receive a small Christmas gift bag; inside is the story rolled up in Christmas paper as a scroll, a letter to let them know that the congregation's prayers and thoughts are with them, and a handmade Christmas ornament with a mustard seed on it. The pastoral care team is present to pray with anyone who wants prayer.
"Many came because it was an open invitation," Donna said. "We would never have had any idea that some of them were struggling with challenges in their lives. Losses and grief, unemployment, a myriad of issues. Some gave us wonderful feedback about how meaningful this time was for them."
Service of Comfort and Rest
Red Clay Creek Presbyterian Church,
Wilmington, Delaware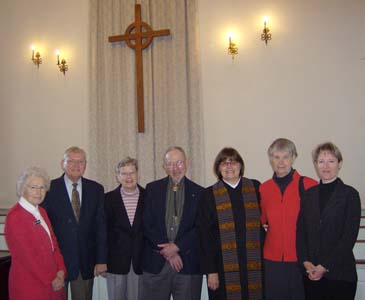 On a Sunday afternoon in mid-December, Red Clay Creek Presbyterian Church offers a "Service of Comfort and Rest" for those who have experienced loss--through death, divorce, depression, and many other life challenges--and for those under stress during the holiday season who need a time of rest. With singing and Scripture reading, a homily and special music, this service invites those who attend to take time for themselves. Stephen Leaders and Stephen Ministers serve as liturgists, musicians, and communion assistants.
Two teams of Stephen Leaders make up the prayer teams; they anoint each person and then pray for him or her. Stephen Ministers are available for listening and prayer after the service.
Each person who attends is invited during the service to come forward and light a candle in memory of a loved one or to ask for special prayer. "Everybody who attended the service did come forward and light a candle," said Rev. Beth Engel, Stephen Leader and director of pastoral care. "It was very meaningful for them.
"Last year we discovered some needs that we didn't even realize until that service," she went on. "We had a young man come forward after the service and pray with those who had led the service, sharing his own deep need."
After last year's service, some new care receivers were assigned to Stephen Ministers. Stephen Ministers now assist at the congregation's monthly services of healing and wholeness.
The Service of the Longest Night
Aldersgate United Methodist Church,
Wilmington, Delaware
Held on the longest night of the year, just before Christmas, this service is open to anyone in the congregation or in the community who has suffered a loss. The candlelight and the beautiful stained glass of the music center set the tone for a quiet, meditative service.
"When they arrive, they are closed, into themselves, carrying their pain," said Dawn Gent, Stephen Leader and Stephen Minister. "Most come alone. Everyone walks in there in the bubble--the pain bubble--and finds a space separate from other people. They don't know how upset they are going to get so they want to make sure they have some space."
Stephen Ministers are there to provide the ministry of presence.
"We read a litany that begins 'This is the season of love and joy and family'; the response is 'but not for us,'" Dawn said.
During the service a bell rings for each member of the congregation who has died that year. At the close of the service, each person is invited to come to the table at the front of the room, light a candle, and speak the name of the person he or she has lost.
"The first year I attended the service was the year my mother had died," Dawn said. "That first year I couldn't get up there; I could not walk to the table and light the candle. But the next year I was seated next to a woman who was clearly as grieving and hesitant as I was. I turned to her and said, 'Last year I couldn't do it, but I think together we could walk up there.' And we did.
"The most moving moment, and the hardest part for me, was speaking the name out loud," Dawn said. "When I was able to say the name, it gave me a sense of closure."
The service concludes with a small reception. "It gives everyone an opportunity for sharing, for caring, for moments of quiet to watch the flickering flames," Dawn said. "It is beautiful.
"People look transformed. They have been able to express something that has been locked up inside. They've had a chance to say good-bye. They feel a lift of their burden."
Christmas Party for Caregivers
Highland Sixth Presbyterian Church,
Highland Heights, Ohio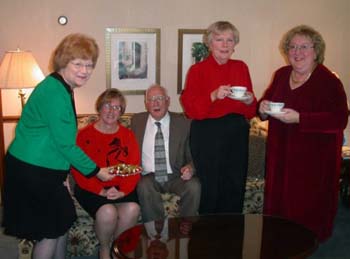 "We recognize that our caregivers in our congregation have a very heavy load, especially around the holidays," said Pamela Belknap, Stephen Leader, Stephen Minister, minister of music, and certified counselor. "We want to honor and support those who are taking care of a relative in their home or in a nursing home. We also reach out to our recently widowed persons. The holidays are a difficult time for all of them. The holidays are altered because of their family situation."
For a few hours, those who attend this special party--held during the week between Christmas and New Year's at the home of a Stephen Leader--enjoy food and fellowship.
"This is a gathering of caring people," Pam said. "Our active Stephen Ministers, those on sabbatical, those in training, and our Stephen Leaders attend. We do everything as a large group."
Beginning with appetizers, the party provides time for people to mingle and receive support informally from one another. "Many begin to realize that they aren't the only ones who are caregivers," Pam said. Stephen Leaders and Stephen Ministers provide a special, delicious dinner and give small gifts to their guests. After dessert, people gather to share concerns and to pray together.
"Caregiving is just what they do," Pam said. "They don't expect to be honored and fussed over. This is a joyous event for them, with good energy and support. It means a lot to them that we take time out of the busy holiday season and our own activities to do this. Often everyone else is having a normal holiday with lots of family activities, and they are on the outside looking in."
Following the party, with permission, their needs for prayer are included in the congregation's corporate prayers and in the monthly newsletter. Each person who attends is also contacted and offered the care of a Stephen Minister.
A Service of Remembrance
First Presbyterian Church,
Greenwood, South Carolina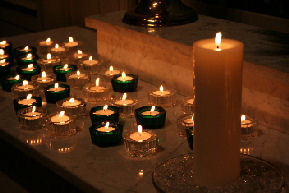 Held in early November each year and sponsored by the congregation's Stephen Ministry, "A Service of Remembrance" has become a tradition at First Presbyterian, a beautiful and meaningful time for those who have experienced significant losses during the year.
The Stephen Ministry team sends personal invitations to all who have lost relatives that year. The entire congregation and the community are also invited. All Stephen Ministers attend, wearing nametags, and assist with the service. After the service Stephen Ministers are available to listen and pray with anyone who stays.
Pastors, Stephen Leaders, and Stephen Ministers lead the service of Scripture readings, a responsive reading, prayer, and singing. The bell choir and children's choir present selections.
"Children can sometimes give comfort to those who are grieving," said Peggy Hammett, Stephen Leader and director of Christian education. "I talk with them before the service, pray with them, and tell them how special it is for them to be there and how much comfort they are bringing."
The candle lighting service begins with the lighting of six memorial candles--Candle of Grief, Candle of Courage, Candle of Memories, Candle of Love, Candle of Hope, Candle of Faith. In the center of these is the Christ candle. Under the cross at the front of the auditorium are other candles.
During a time of silence, those attending are invited to whisper the names of their loved ones. Then each person is encouraged to come forward to light a candle in memory of his or her loved one.
"This is a very emotional time, and it's difficult for some," Peggy said. "We have Stephen Ministers stationed along the way to help them if they need help. Last year we had seventy candles lit."
Continuing Education and Grief Seminar
Beach United Methodist Church,
Jacksonville Beach, Florida
During continuing education before Christmas and Easter, Stephen Leaders and Stephen Ministers cover the topic of grieving during the holidays. Rev. Carmen Johns, Stephen Leader, also leads a ten-week seminar on grief that ends just before each holiday.
Time for Sharing and Remembering
St. Bartholomew's Episcopal Church,
Poway, California
"'Handling the Holidays' and 'Service of Remembrance' have been ministry resources for our Stephen Ministers to offer to their care receivers," said Rev. Carolyn Richardson, Stephen Leader. "Our Caring Friends group, a spiritual support group for those who are grieving, hosted these events."
In 2005, "Handling the Holidays" provided a forum for those who had already survived the holidays to share hints and provide support to those grieving a recent loss. The service included a candle lighting ceremony to honor and remember loved ones.
"Service of Remembrance," an evening service held in November, focuses on honoring those who have died during the past year and remembering other loved ones who have died. Those who attend are encouraged to bring photos of their loved ones. During this candlelight service, the names of people who have died are read, and those who attend find comfort in the knowledge that they are not alone in their grief.
Hope for the Holidays
St. Paul's United Methodist Church,
Rochester, Michigan
"We started 'Hope for the Holidays' to help those who are grieving heal their hurts of being in the holiday season when they're not feeling 'holly jolly' in their lives," said Rev. Rony Veska, Stephen Leader and associate pastor.
Held before Thanksgiving, "Hope for the Holidays" is a meditative service that includes lighting of candles, communion, prayer, and anointing. Those who attend can share their prayer concerns with the Stephen Ministers and pastors who are present. After the service, Stephen Ministers are available for prayer.
This year, on two Wednesday evenings in November, Stephen Ministers and Stephen Leaders will gather with those who are grieving to provide mutual support and encouragement. Those who are grieving will learn some coping strategies. Those who want to help someone who's hurting but aren't sure how will learn some practical ministry skills. A worship service of comfort, support, and healing will also be part of those evenings.
Seminar and Advent Grief Memorial Service
Northway Christian Church,
Dallas, Texas
"'Getting Through the Holidays after Death or Divorce' is our one-night, two-hour seminar for those who are grieving," said Jack Arrington, Stephen Leader and Stephen Minister. Offered once in November and once in December, the seminar is open to the community and the congregation and helps those who are grieving make alternative plans for the approaching holidays.
Grieving people also have the opportunity to talk about their losses and how they've been affected. Admitting that life is different and will always be different in the future and talking about the people they've lost by name allow these people to continue to move forward in the healing process.
Stephen Leaders and Stephen Ministers who have served as recovery group coordinators during the year participate in the seminar.
Two weeks before Christmas, Northway holds the "Advent Grief Memorial Service," which is also open to the entire congregation and community. All who attended the seminars are invited to come and worship. A main feature of the service is the opportunity for each person to write down on a card some personal comments about the person he or she has lost. During the lighting of candles, these comments are shared with the group. Singing seasonal songs and sharing communion encourages the grieving people to move on as best they can, with God's help.
In his Christmas message last year, Dr. Haugk said, "The incarnation of Jesus is God's gift to us. And it is a gift that flows through us to others. The incarnation is God's gift-wrapped baby, a gift we are privileged to bring to hearts and homes. . . . So that's why we've taken a moment of holy calm in the midst of all the hustle and bustle of this busy season to pause, reflect on the reason for it all, and celebrate the awesome privilege of being part of God's Christmas story."
It's that gift--God's gift of his Son--that holds promise for healing and peace.