Journeying through Grief
A Set of Four Short Books
to Share with Grieving People
throughout the First Year
after Their Loss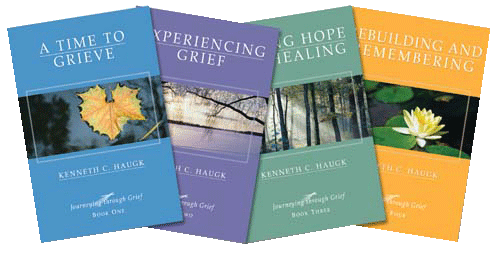 A set of four books that pastors, individuals, congregations, and other organizations can give or send to a grieving person at four crucial times during the first year after a loss.
Book 1: A Time to Grieve
. . . Send 3 weeks after the loss
Book 2: Experiencing Grief
. . . Send 3 months after the loss
Book 3: Finding Hope and Healing
. . . Send 6 months after the loss
Book 4: Rebuilding and Remembering
. . . Send 11 months after the loss
The four books are each 44 pages long with short, easy-to-read chapters, written in a caring, friendly, personal style. The books blend solid information about the grief process, Biblical truths, and stories, and the pages are interspersed with Bible passages, poems, and quotes about grief.
Each book helps the reader better understand what he or she is experiencing and provides hope and encouragement for the journey. He or she will feel cared for and remembered by you throughout that difficult first year after the loss.
The Journeying through Grief books are written by Kenneth C. Haugk, Founder and Executive Director of Stephen Ministries. Each set of Journeying through Grief books also includes four mailing envelopes and a Tracking Card that makes it easy to remember just when to send each book.
A Giver's Guide (available separately) provides suggestions for using the Journeying through Grief books, as well as sample letters you can adapt to send with each of the four books.
Order a set for yourself, and several to share. Quantity pricing is available.