Christian Caregiving--
a Way of Life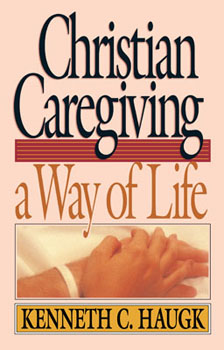 This popular course, which uses the best-selling Christian Caregiving--a Way of Life book and its Leader's Guide, helps congregations teach their members the basics of distinctively Christian caring and relating. Participants read one chapter before each lesson, and the Leader's Guide provides the leader with complete instructions, discussion questions, and activities for the classroom time together.
Participants grow in their ability to care for one another as they learn how to pray with someone, share from the Bible during a caring conversation, speak a word of forgiveness, and much more. The course provides an enjoyable entry-level experience in daily Christian caregiving and is a great way to increase the caring atmosphere in a congregation. The course can be scheduled for any number of sessions up to 20 hours. It is also ideal for a day-long or weekend retreat. See the course and book contents.
Course materials include:
The instructor uses both of these resources, while participants only use the second.