Internships at
Stephen Ministries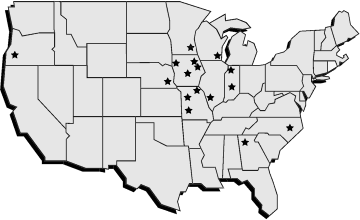 Stephen Ministries internships are perfect for bright, committed college students who have completed their sophomore year and are eager to earn practical workplace experience in an exciting and challenging, yet kind and supportive atmosphere. Each year a number of top-performing students become part of the Stephen Ministries St. Louis family by participating in a Stephen Ministries internship.

When Can Internships Take Place?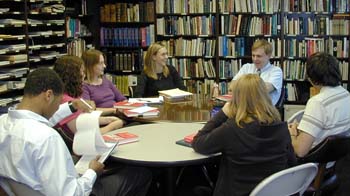 Students can participate in our internship programs during the fall, spring, or summer. See the How to Apply page for application deadlines for each period.
Confidence
Interns at Stephen Ministries St. Louis have the perfect opportunity to develop their talents for the business world. "What I didn't expect to get out of this internship is the confidence that I now have in my abilities as a writer, editor, interviewer, and leader in general. That confidence could only come from working with such a supportive, encouraging, uplifting staff." Greg Ingram, Indiana University, 2006
Nice People
Stephen Ministries interns are welcomed as colleagues and treated with kindness and respect. "The people I've been working with are extremely nice. It's been a pleasant experience and a great fit for me." Lauren Grady, Washington University, 2007
A Great Supervisor
Each intern will work closely with an experienced, highly trained supervisor to explore career possibilities. "I really enjoyed working closely with my supervisor; I might be interested in a career like hers someday. Talking to her about her career choices helped me get a better idea of what careers are out there for a writer/editor." Elizabeth Sanders, St. Olaf College, 2008
A Voice
Interns at Stephen Ministries are actively involved in the organization's decision-making processes and regularly participate in management discussions, focus groups, and market research. "I felt as though I had a voice in the decisions that were being made about the present and future management of the organization." Keenan Yates, Morehouse College, 2007
Meaning
At Stephen Ministries, interns have the chance to do meaningful work. They experience the satisfaction of knowing that their work has served God and made a difference in many people's lives. "It's great that I'm doing something that has meaning. I really like that it's focused on ministry and helping people." Megan Murphy, Valparaiso University, 2007
Career Discovery
A Stephen Ministries internship offers students the chance to try out potential careers in a highly professional atmosphere. "I liked that Stephen Ministries put me in a position where I could contribute and do work that I enjoyed. Through this internship I learned that I really enjoy marketing, and I could see myself working in a marketing department in the future." Joel Endorf, Concordia University Nebraska, 2008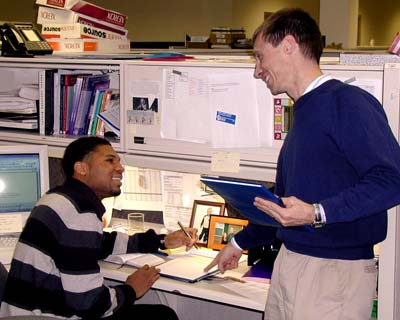 Meet Some of our Former Interns
Learn More about Stephen Ministries
What It's Like to Work at Stephen Ministries