Welcome! Building a More Caring World is a brand-new event from Stephen Ministries St. Louis that casts a vision for empowering all people to make their corner of the world a more caring place. We're excited to share this vision with you and tell you about what's next in the Stephen Ministries story.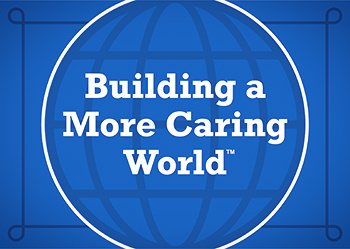 What's the Event About?
As the 50th anniversary of the founding of Stephen Ministries approaches, we've been reflecting on how we've served in the past and how we can serve even more in the future.
Out of that process, an expanded vision has emerged for how Stephen Ministries can help make the world a more caring place.
During the event, you'll:
Get an exclusive look at upcoming resources from Stephen Ministries

Receive an invitation to pilot test new material for equipping even more people to care and relate with greater excellence

Have an opportunity to connect with Stephen Ministries' staff during an open discussion time
Our team has been working hard on this event, and we're excited to share it with you.
---
Who's Invited?
We want people everywhere to catch this vision for building a more caring world, so we're opening this event to:
Stephen Leaders (past and present)

Stephen Ministers (past and present)

Pastors

Church staff

Anyone else—inside or outside of your congregation—who might be interested in building a more caring world
If you're a Stephen Leader, feel free to invite the rest of your Stephen Ministry team to attend. Stephen Leaders can also consider using this event as continuing education for Stephen Ministers.
You can use the downloadable flyer above to spread the word about the event. This PDF can be printed and distributed or sent by email.
---
RSVP for the Event
Below is the schedule for the upcoming Building a More Caring World events. There is no cost to attend.
Please note that each person will need to RSVP individually. We also recommend that each attendee sign in to the meeting on their own device, rather than having a group all use the same device.
If these dates don't work for your schedule, click the button below and fill out the requested information. We'll send you an invitation when we hold this event again in the future.