Don't Sing Songs
to a Heavy Heart
How to Relate to
Those Who Are Suffering
"Like one who takes away a garment on a cold day, or like vinegar poured on soda, is one who sings songs to a heavy heart."
Proverbs 25:20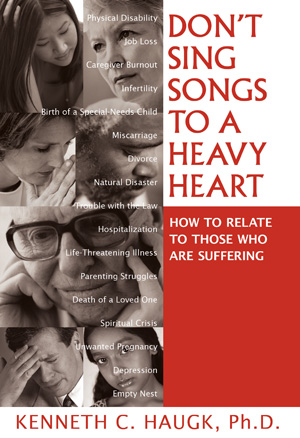 This proverb describes an all-too-human problem each of us faces from time to time. A friend, neighbor, coworker, relative, or someone else we know is experiencing suffering. We want to help--we need to help--but our well-intended words or actions often end up adding to the person's burdens instead of easing his or her pain.
Don't Sing Songs to a Heavy Heart provides a healing remedy. This newest book by Kenneth C. Haugk was forged in the crucible of his own suffering during his wife Joan's 3½-year war with ovarian cancer and the time after her death. The book was then shaped through careful research with more than four thousand individuals who had also known suffering in their lives. Dr. Haugk listened to stories, gathered data, tested assumptions, and compressed their collective wisdom into gems of compassion and understanding that everyone can learn from and use.
Built on a solid biblical foundation and brimming with God's grace, Don't Sing Songs to a Heavy Heart overflows with practical examples and specific suggestions about what to say or do--and what not to say or do. It will touch your heart, expand your thinking, and guide you in bringing Christ's loving care to hurting people when they need it most.
Table of Contents and Excerpts from the Book
Uses for the Book
Order Don't Sing Songs to a Heavy Heart