News from the Stephen Ministries Headquarters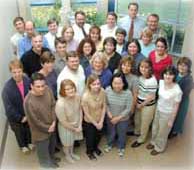 Our staff of 45 dedicated Christian men and women--pastors and laity, from a variety of denominations--looks forward to serving you. This portion of our website allows you to learn more about members of the Stephen Ministries team and what goes on at the Stephen Ministries Center.
Spotlight on the 60,000th Stephen Leader
Stephen Ministries marked the training of the 60,000th Stephen Leader at the 174th Leader's Training Course (LTC) this April in St. Louis, Missouri.
Dr. Kenneth Haugk Addresses Graduates of Concordia University Texas
On May 1, Stephen Ministries' founder and executive director, Dr. Kenneth Haugk, delivered the commencement address for Concordia University Texas in Austin.

Stephen Ministries Briefs
Pentagon Officials
on the H.E.R.O.E.S. Care Program
Stephen Ministries St. Louis is working with Operation Homefront of Missouri, Give-an-Hour, and the Military Spouse Corporate Career Network to offer the H.E.R.O.E.S. (Homefront Enabling Relationships, Opportunities, and Empowerment through Support) Care Program to military service members.
Rev. Michael Welch
and Family Die in
an Automobile Accident
Former Stephen Ministries pastoral staff member Michael Welch and his family died in an automobile accident on February 7, 2008. Please lift up in prayer all who knew and loved these devoted followers of Christ.
Preserve Stephen Ministries for the Next Generation
How has Stephen Ministries touched your life? You can help ensure that Stephen Ministries will continue to provide insightful leadership and ministry solutions in the future: Consider making a gift or bequest to Stephen Ministries. New federal rulings on gifts make it easier than ever!
Pressure Points with Dr. Bruce Hartung
Many soldiers are returning directly home from the trauma of combat zones and finding themselves without the support a military base offers. Congregations can step into the gap, providing the support, understanding, and care that veterans need.